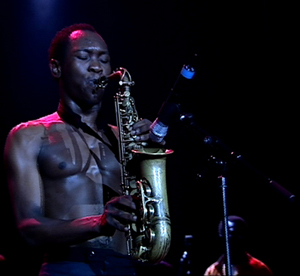 Paris, France – Seun Kuti & Egypt 80 will perform at some of the main British festivals, notably Lovebox London weekender (20th July) and The Big Chill (3rd August). His first London concert at the Barbican on 28th May drew the UK media's attention, including a whole page in the Independent.
Seun (pronounced "Shehoun") is an abbreviation from his Yoruban name Oluseun: "God has done great things". There's no doubt that Seun is the worthy heir of Fela Kuti's hardline militancy. Deeply engaged, every track on his latest album Seun Kuti & Egypt 80 (Tôt ou Tard) is a ravaging pamphlet against the corruption and carelessness of African leaders from Think Africa and Many Things to Na oil and African Problems.
Seun recently joined Youssou N'Dour in a major project fighting against malaria and mosquitoes. Their song explains how the governments' negligence in teaching the importance of hygiene is responsible for the effects of this plague that kills more people than AIDS.
With the same energetic and booming voice as Fela, Seun has added his own raging rhythm clearly influenced by rap. He cites Chuck D, Dr Dre and Eminem among his musical heroes. But Seun Kuti's orchestra isn't a clone of his fathers, even if we do see as much crazy, frenetic movement on stage and even if two thirds of the orchestra's members were already there in Fela's time. Above all they are one of the best funk groups today. For the last 25 years they've played and rehearsed daily in Lagos at the Shrine Club.
Buy Seun's new CD:
Author:
World Music Central News Department
World music news from the editors at World Music Central