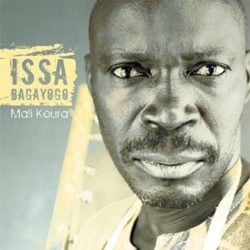 Issa Bagayogo
Mali Koura (Six Degrees, 2008)
Fans who have been sadly staring into space awaiting Malian singer and n'goni player Issa Bagayogo's his next CD now have a reason to rejoice as Mali Koura is set for release on August 5th. Bagayogo returns with hip flash and an intoxicating suaveness that is sure to soothe the agonized languishing of a four year wait. Shot through with Bagayogo's silky smooth vocals, relentless Afro-European rhythms and earthy grooves, Mali Koura slinks coolly through a musical blend of West African dancehall, jazz, electronica and funk. Continuing to polish a sound that has won him praise from audiences and media around the world, Mr. Bagayogo finesses the listener with his musical charms by fusing the savory flavors of Mali with the savvy goodness of Western traditions to create seamless mix.
Opening Mali Koura with a heady dose of n'goni funk, "Sebero" shimmers with Bagayogo's lead vocals, sassy horns and a kickass beat. The long-legged lanky sound of tracks like "Filaw" and "Poye" walk all over the listener with high-stepping rhythms, swinging horn and guitar lines against a plumy backdrop of female back-up vocalists.
The rippling rhythm and electronica of "Tcheni Tchemakan," combined with depth of Mr. Bagayogo's sophisticated vocals, creates an easy groove that it's impossible not to fall in and wallow in the goodness. "Dunu Kan" is all slick, jazzy coolness with piano and organ, while the tightly wound "N'Tana" reels with twangy guitar, flute, horns and bright back-up vocals.
Mali Koura only gets better with luminous horn lines and hip swinging funk on "Ahe Sira Bila" and the dark, pulsing rhythm on "Namadjidja." My favorite track has to be the infectious dance floor groove of "Fimani," with its undulating horn lines and guitar flash. Closing Mali Koura with the glossy "M'Ba Fodi," it was almost impossible to not think that Mr. Bagayogo has created a whole new genre of West African groove music.
Rounding out Bagayogo's sound on Mali Koura is producer Yves Wernert, multi-instrumentalist Gael Le Billan, flautist Ba Diallo, djembe player Adama Diarra and guitarist Mama Sissoko. And what a sound it is. Mali Koura is infectiously cool, slyly sophisticated and sublimely rich with Mr. Bagayogo's signature sound.
Buy the CD:
Author:
TJ Nelson
TJ Nelson is a regular CD reviewer and editor at World Music Central. She is also a fiction writer. Check out her latest book, Chasing Athena's Shadow.
Set in Pineboro, North Carolina, Chasing Athena's Shadow follows the adventures of Grace, an adult literacy teacher, as she seeks to solve a long forgotten family mystery. Her charmingly dysfunctional family is of little help in her quest. Along with her best friends, an attractive Mexican teacher and an amiable gay chef, Grace must find the one fading memory that holds the key to why Grace's great-grandmother, Athena, shot her husband on the courthouse steps in 1931.
Traversing the line between the Old South and New South, Grace will have to dig into the past to uncover Athena's true crime.