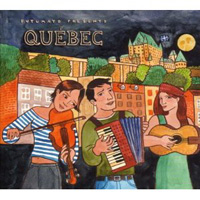 Putumayo Presents Quebec (Putumayo PUTU 279, 2008)
I visited Quebec several times as a youngster with my Canadian father, and despite my tender years was aware of the province's strong French heritage. While that heritage deeply permeates many a moment on this compilation, there are other forces at work. (And being entirely unfamiliar with 8 of the 11 artists featured here and only slightly acquainted with the others, I wasn't burdened by preconceived notions.)
Mathieu Mathieu's opening "Cette Ville" hooks deep with its swaying resemblance to Parisian chanson, but possible pigeonholing is quickly broken by the Afro-Franco groove of DobaCaracol, Martin Leon's electro blues sound and the reggae-like pulse of Annie Villenue.The respective selections by actress/singer Chloe Sainte-Marie, indigenous artist Florent Vollant and sweet-voiced Marie-Annick Lepine come across folksy yet lyrically and rhythmically potent. They're followed by Myreille Bedard's gorgeous "Il fait dimanche," which I'd swear was sung by a Brazilian if I didn't have the liner notes stating otherwise.
Polemil Bazar provides a dryly humorous interlude with the shuffling "Les Visceres" (check the translated lyrics) before a pair of lively, traditional-sounding tracks by La Bottine Souriante (whom I've had the pleasure of seeing live) and Le Vent du Nord end things on a rousing note.
What I said earlier about preconceived notions was true, though if I'd had any, I might well have expected this album to not be as good as it is. At just a shade over 38 minutes it clocks in on the short side, but every song is a keeper and so the whole disc is as well. A very pleasant surprise.
Buy the CD:
Author:
Tom Orr
Tom Orr is a California-based writer whose talent and mental stability are of an equally questionable nature. His hobbies include ignoring trends, striking dramatic poses in front of his ever-tolerant wife and watching helplessly as his kids surpass him in all desirable traits.