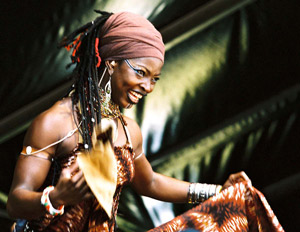 The Pacific Jazz Institute at Dimitriou's Jazz Alley presents Ivorian vocalist and dancer Dobet Gnahoré for two nights July 15-16. Band members are Dobet Gnahoré (lead vocals, percussion), Colin Laroche De Feline (guitar/vocals), Nabil Mehrezi (bass, vocals) and Boris Tchango (drum, percussion). Set time Tuesday and Wednesday at 7:30pm.
Dobet Gnahoré's stunning sophomore album Na Afriki (Cumbancha Records) earned the top spots on both the prestigious CMJ New World Charts and the Canadian Campus Radio chart. Na Afriki (To Africa) offers a personal vision of Africa today. Performed in a number of different African languages, the songs address social and political issues: the struggles of women in African society, the exploitation of children, the impact of greed and violence on the family. Dobet calls upon Africa to seek solutions from within and draw upon its own vast resources to create a better future. She sings of love and loss, as well as joy and celebration, using a wide variety of rhythms and styles that reflects her unique pan-African approach.
The minute Dobet steps onto the stage, it is obvious she is something special. She exudes an inner strength and commanding presence that draws you in, even before she opens her mouth to sing. Once Dobet begins to sing, her voice is filled with emotion and range. She moves from heartfelt ballads to funky, danceable songs with ease, and is comfortable performing in a wide range of African styles. Eventually, Dobet begins to dance, and the true depth of her talent shines through. She jumps across the stage like an acrobat, a soulful tornado of movement who astounds the audience with her moves.
Just 24 years old, Dobet Gnahoré has it all – an exceptional voice, amazing dance skills and the engaging aura reserved for artistic greats. After masterful performances across Europe and the United States, she has become one of African music's most exciting young talents.
2033 6th Avenue, Seattle, WA, 98121
COST: $22.50
Buy the CD:
More at Dobet Gnahoré
Author:
World Music Central News Department
World music news from the editors at World Music Central