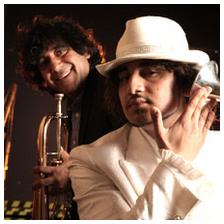 The Boban i Markovic Orkestar, led by father and son trumpet virtuosos, will be performing in Manhattan, Chicago, Philadelphia, Montreal, Springfield and Evanston this July.
The aural assault from this raucous brass band has earned them the title of "best band in Serbia" for nearly 20 years running. Feted at home and abroad as the greatest of Balkan trumpeters, Boban Markovic is the scion of a long line of gypsy musicians. From his home town of Vladicin Han in Serbia's gypsy brass heartland, he has led his Orkestar to international acclaim, boldly going where no other brass band has gone before, enhancing the traditional repertoire with elements of the wider world from jazz to Latin to pop.
This trail-blazing mix has brought him legendary status at home through his record number of prizes won at the all-important Gucha brass band festival competition, so many in fact, that the Orkestar now perform there as honored guests in order to give others a chance.
Now, not wishing to rest on his laurels, he has fulfilled his promise to hand over the artistic direction of the Orkester to his son Marko upon his coming of age, ensuring the continuation of the line and the family reputation for matchless innovation.
Boban i Marko Markovic USA Tour July 2008
16th – NYC, Drom, (with Brotherhood of Brass), 11pm
17th – Chicago, Pritzker Pavilion/Millennium Park, 7:15pm
18th – Chicago, Millenium Park, SummerDance, 7:30 – 9:30pm
19th – Chicago, Pitchfork Festival, 12:30pm
19th – Evanston, World Music Festival, 5:30pm
20th – Springfield, Hoogland Center for the Arts, 8pm
21st – Chicago, Pitchfork After Fest, 8pm
22nd – Montreal, La Tulipe, doors 7pm, showtime 8:30pm
23rd – NYC, Drom Club, 9pm
24th – Philadelphia, Kimmel Center, Perelman Theater, 7:30pm
Discography available in the North America:
Discography available in the Europe:
Photo 1 by DraganTasic.
Author:
World Music Central News Department
World music news from the editors at World Music Central