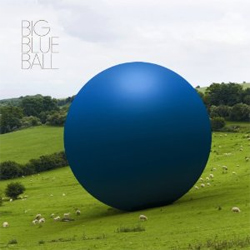 Sixteen years in the making, Peter Gabriel's Big Blue Ball is now out on Real World Records. This all-star collaboration began in 1992 during a "Recording Week" at Real World Studios when Gabriel opened the doors to 75 international artists from over 20 countries. This series of weeklong residential sessions continued over three years. "The idea was to put rock musicians together with musicians from all over the world and see what happened," Gabriel says. "We ran the studio like a dating service with a 24-hour cafe."
The 11 tracks on Big Blue Ball offer a world-view of music, a snapshot of the music-making continents at that time. Featuring Gabriel on lead vocals on several tracks, performances also include Karl Wallinger, Tim Finn, Sinead O'Connor collaborating with Japanese percussionist Joji Hirota, Natacha Atlas singing with an Egyptian string section brought in by Hossam Ramzy, The Holmes Brothers with Billy Cobham on drums, and Papa Wemba's extraordinary vocals paired with the flamenco guitar of Juan Manuel Cañizares. Additional notable western, African and Asian musicians also contribute.The album's first single "Whole Thing" is now available online. The single features Gabriel on lead vocal and keyboards, Tim Finn (Crowded House) and Andy White (ALT) on backing vocals, Karl Wallinger (World Party) and Paul Allen on guitar, and Francis Bebey (the legendary cultural icon of Cameroon) on flute and backing vocals.
The new single from the album is the song "Burn You Up, Burn You Down" which features Peter Gabriel on lead vocals and backing vocals by the Holmes Brothers.
Buy the CD or MP3 download:
Author:
World Music Central News Department
World music news from the editors at World Music Central