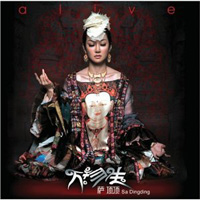 Sa Dingding
Alive (Wrasse Records WRASS 213, 2007)
I'd be the most terrible of liars if I said I possessed anything resembling a comprehensive knowledge of Chinese music. Given China's vastness in terms of culture and sheer size, it's wise that emerging Chinese singer Sa Dingding doesn't aim for an overview of any kind either. Rather, her music is infused with sounds, ideas and inspirations stemming from Chinese (and non-Chinese) elements that have had a profound impact on her. These include pastoral Mongolian melodies, Tibetan spirituality rooted in Buddhist, Christian and Animist sources, modern electronica and invented languages. She sings effectively in a made-up lingo on parts of her CD Alive (to be released in the U.S. on July 29) as well as in Sanskrit, Tibetan and, naturally, Chinese.
Her native tongue is pretty much the only predictable thing about the album- it's a bold, sweeping and memorable work that has a certain innocence as well. The last point is due in no small part to Dingding's childlike voice, which displays an unadorned frailty on the closing "Qin Shang" and a reedy, almost fierce intensity elsewhere. On both dance floor-ready tracks fueled by ultra-modern splashes and bursts of sound and slower songs with shadowy rhythms, her vocals are earthy and more than a little quirky at times. Plus, despite an overall sound that's steadfastly contemporary in terms of production, the singing and angular arrangements retain a healthy helping of tradition throughout.
I'll bet Dingding would sound amazing in a more unplugged setting, and perhaps her future releases will go that route. But for now she's clearly out to make music that's free from boundaries and convention (one song even features lyrics written by a blogging fan whom Dingding has never met) as well as free to move and groove when so inclined. True to its title, Alive is very lively indeed.
Buy the CD:
Author:
Tom Orr
Tom Orr is a California-based writer whose talent and mental stability are of an equally questionable nature. His hobbies include ignoring trends, striking dramatic poses in front of his ever-tolerant wife and watching helplessly as his kids surpass him in all desirable traits.