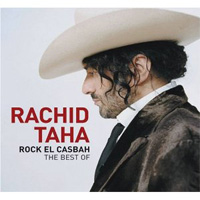 Rachid Taha
Rock el Casbah: The Best Of (Wrasse Records WRASS 215, 2007)
While there's not a release by Algerian/French vocalist Rachid Taha that isn't worth your time and money, this is a great starting point if you're looking for one. At 78 minutes it's generously proportioned, and despite a near-criminal lack of any songs from Taha's marvelous 2006 album Diwan 2, the selection is solid.
His combination of Algerian rai and chaabi music with punk rock attitude has long satisfied traditionalists and progressives alike, and this overview shows why. Take, for example, the title track, a version of The Clash's "Rock The Casbah": the first sound heard is an Arabic ney flute, and once the song tears into the familiar riff of the original, the arrangement is laced by a rattling darbuka drum and strings that sound like an Egyptian orchestra who've collectively had one too many cups of coffee. Such duality is also evident in the fact that Taha sings in both Arabic and French, the ironic twist being that he's often taken a negative view of being an Algerian raised in France.
Even his version of the French patriotic standard "Douce France (Sweet France)" is delivered with a snarling swagger that was as delightful to some as it was offensive to others. Still, as this collection shows, Taha is about much more than ruffling feathers. He and his longtime producer/musical collaborator Steve Hillage have always had a feel for fusion, and the songs included here are just as likely to filter tartly Arabic-textured sounds and instruments through techno backbeats ("Bent Sahra") as through rock riffs that sound inspired by Led Zeppelin at their most esoteric ("Barra Barra"), bhangra-like excursions ("Indie") or surf guitar looseness ("Kelma"). But Taha's Algerian roots are ever at the center of it all, with his unique perspective and booze-and-tobacco-stained singing commanding attention whether he's covering a song from the classic Algerian repertoire or telling the contemporary powers that be where to stick it.
Buy the CD:
Author:
Tom Orr
Tom Orr is a California-based writer whose talent and mental stability are of an equally questionable nature. His hobbies include ignoring trends, striking dramatic poses in front of his ever-tolerant wife and watching helplessly as his kids surpass him in all desirable traits.