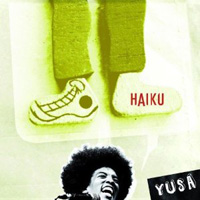 Yusa
Haiku (Tumi Music TUMI 143, 2008)
I had to do a bit of memory jogging and digging through my collection when I received this CD. The name Yusa was familiar… didn't I have another one of hers? Ah, yes. There it was. A self-titled release from 2002, also on the Tumi label. A label that features a lot of very traditional-leaning Cuban music. And, as I was reminded when I listened to that previous disc and this new one, singer/songwriter Yusa is Cuban sure enough, but tradition isn't her thing. Not entirely, anyway. Her music, often hushed and low-key in tone, has a definite Latin lilt and sway to it, but she seeks and captures inspiration from beyond her country's borders to include jazz, soul and hip hop fusions as well as a recurring Brazilian feel attributable in part to producer Ale Sequeira, who hails from Brazil.
Haiku, sporting music reflective of the poetry suggested by its title, is a cool, breezy delight of an album that will appeal to fans of downtempo chill-type stuff, but with more than enough substance- musically and lyrically -to engage those interested in more than just lounging about.
Yusa has a breathy, longing voice (she's been favorably compared to Joan Armatrading and the comparison is a valid one), perfectly warmed by arrangements that are acoustic upon first impression but soon open up into echoey, sparsely electronic moodiness. The songs are rhythmically alive with both natural and processed sounds (thanks to the seamless combination of Yusa's multi-instrumental skills and Sequeira's uncluttered production) and though the ten tracks add up to a sparse 37 minutes, each one sparkles.
Check out the stark tone-setting of " Haiku De Paz," percussion-laced swivelers like "Conga Pasajera" and "Gente Simple" or the Euro-café feel of "Paris, Muy Bien," and you'll no doubt agree.
Buy the CD:
Author:
Tom Orr
Tom Orr is a California-based writer whose talent and mental stability are of an equally questionable nature. His hobbies include ignoring trends, striking dramatic poses in front of his ever-tolerant wife and watching helplessly as his kids surpass him in all desirable traits.