Brazilian music star Sergio Mendes talks about his new titled, Encanto, released in June 2008. The title, Encanto "is a beautiful Portuguese word that I chose as the album title because it describes the whole project so well. It means: Enchantment, Delight, Charm…"
"Every time I make a new record, it's a new adventure." explains the affable Mendes from his Los Angeles home. "My main motivation," he enthuses, "is to record wonderful songs. In the process, I enjoy sharing with the world the diversity of Brazilian music– both in terms of rhythm and melody."
"This time, I wanted to go full circle. So I decided to begin this journey in my homeland, Brazil. I traveled to Rio and Bahia, meeting a number of old friends that I hadn't played with in quite a while. There's a very special musically creative environment in Brazil, which inspires me tremendously."
Mendes was still living in Brazil during the momentous era between the late '50s and the early '60s when the samba-based bossa nova was born. In fact, he was one of the first practitioners of the new genre, together with composer Antonio Carlos Jobim, guitarist Joao Gilberto and lyricist Vinicius de Moraes.
True to his desire to go back full circle, Mendes recorded four seminal Jobim compositions: a hip-hop version of "Agua De Beber" with Toninho Horta on guitar, Mendes' wife Gracinha Leporace on vocals, and the man himself showcasing his instrumental chops on a bewitching Rhodes solo; "Waters of March," which features Grammy nominated,super talented new artist Ledisi; "Somewhere In The Hills," with vocals by none other than Natalie Cole and Flugel Horn solo by great German jazz artist Till Bronner; and "Dreamer," which marks the first time that former mentor Herb Alpert actually plays the trumpet on a Sergio Mendes album, with brilliant vocals by Lani Hall, Alpert's wife and the original lead singer of Mendes' Brasil '66.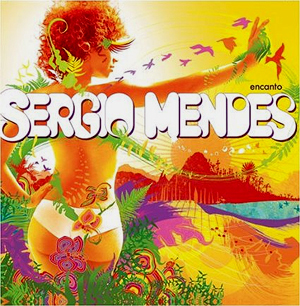 But the most daring cover in the entire album is a new version of Burt Bacharach's "The Look Of Love," which Mendes had originally transposed to bossa nova heaven in 1967, when it became his biggest hit with Brasil '66. Produced by Black Eye Pea will.i.am, this new interpretation maintains the beguiling melody of the original, bringing the tune to new millennium territory: keeping Sergio's original bass line intro, with crisp drum programming and a sexy rap/vocal by The Black Eyed Peas' Fergie.
"I mentioned 'The Look Of Love' to Will. I was looking for a way to re-do it, with a dance beat that I heard in Brazil(which is very popular, nowadays, with young people down there) which I thought would be great for the song. Will loved the idea and suggested Fergie to sing it. On Timeless, we had reworked 'Mas Que Nada,' presenting it in a different way, and it became an international hit. This time, we did 'The Look Of Love,' 40 years later."
will.i.am's enthusiasm should not come as a surprise. Growing up in Los Angeles, he collected Mendes' original bossa nova classics on vinyl and was influenced by his smooth, pan-Latin approach to creating dance music with sophisticated arrangements and production values. Their 2006 collaboration Timeless distilled the exhilarating feelings that will.i.am experienced recording an album with his longtime idol.
Serious Mendes aficionados will recognize Carlinhos Brown as the principal songwriter on Brasileiro, the seminal 1992 session that saw Mendes changing gears and exploring Bahian rhythms and sounds. A virtuoso percussionist, singer and songwriter, Brown has become famous for his funky song structures and deep percussion textures. "Funky Bahia," the song he co-wrote with will.i.am for this CD, is a perfect cross between American mainstream and Brazilian sensibility– the kind of multi-cultural encounters that the jazz loving Mendes has always favored. It's sung by Will and Siedah Garrett, another Mendes alumna, who sang in Mendes' band in the mid '80s and recorded on many of his albums. Also playing on this song (Funky Bahia), as well as several others, are 2 of the greatest musicians of their generation, Sergio's long time friends and collaborators: the virtuoso guitarist Paul Jackson, Jr. and the legendary bassist Alphonso Johnson. Sergio's longtime band members, Mike Shapiro – his drummer for 20 years, brothers Meia Noite and Gibi, percussionists also from Bahia, are also part of this album.
"I've always dreamed of making an album with guest artists from different cultures, singing in their native language, as a way to illustrate the power and magic of Brazilian melodies," he emphasizes. Besides the glorious singing of Zap Mama (in French), the album also includes a rap by Italian super star Jovanotti, as well as a new song by Joao Donato and Joyce – "Y Vamos Ya," –sung in Spanish by Juanes, one of the brightest new stars in contemporary Latin pop.
"I heard about Juanes a couple of years ago and thought that he had a beautiful voice," explains Mendes. "Fortunately, I was able to hook up with him and have him as a guest in this project."
In fact, there is one element that unifies the songs in Encanto, and that's the joy that can be heard in the voices of Mendes' collaborators. No matter what country, demographic or genre they belong to, they were all thrilled to record with the maestro, which speaks volumes about the timeless appeal of Sergio's unique style.
"There's a sensuality to Brazilian Music, a pure kind of sentiment," he concludes. "The melodies are catchy, the rhythms are intoxicating, the songwriting is peerless and the harmonies are beautiful. There's a freshness to that sound that simply refuses to go away."
Buy the CDs or download MP3s:
Author:
World Music Central News Department
World music news from the editors at World Music Central