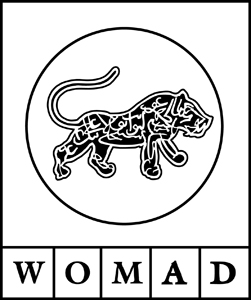 The WOMAD world music festival returns to the picturesque surrounds of Charlton Park, Wiltshire, from Friday 25 July to Sunday 27 July. Over seventy world-class artists from forty different countries will perform across seven stages in the English countryside. Easily accessible by road: just seven miles from Junction 17 (Chippenham) of the M4, one hundred miles due west of London, less than thirty miles from Bath, Bristol and Swindon.
AltaiKai (Altai Republic) – Bedouin Jerry Can Band (Egypt) – David D'Or (Israel) – Dhoad Gypsies of Rajasthan (India) – Ernest Ranglin (Jamaica) – Agricantus (Sicily) – Bassekou Kouyate & Ngoni Ba (Mali) – Cara Dillon (Ireland (Irish Republic)) – Devon Sproule (United States) – GOCOO + GoRo (Japan) – Justin Adams & Juldeh Camara (Gambia) – Kasai All Stars (Congo) – Kenge Kenge Orutu Systems (Kenya) – Kora (New Zealand) – Malam Mamane Barka (Niger Republic) – Mista Savona (Australia) – Tashi Lhunpo Monks (India) – Monobloco (Brazil) – Sarah Savoy & The Francadians (France) – Rumberos de Cuba (Cuba) – Simone White (United States) – Roni Size & Reprazent (United Kingdom) – TC (United Kingdom) – Squeeze (United Kingdom) – Lo Còr De La Plana (France) – Mamani Keita and Nicolas Repac (France) – TransGlobal Underground (United Kingdom) – On-U Sound Showcase with Adrian Sherwood, Lee 'Scratch' Perry & Little Axe (United Kingdom) – Terakaft (Mali) – Chic (United States) – Eddy Grant & The Frontline Orchestra (Guyana) – Finley Quaye (United Kingdom) – Shantel & Bucovina Club Orkestar (Germany) – Hossam Ramzy & His Egyptian Orchestra (Egypt) – Sa Dingding (China (Peoples Republic)) – Toumani Diabaté (Mali) – Mavis Staples (United States) – Little Feat (United States) – Show of Hands (United Kingdom) – Hamid Baroudi (Algeria) – Mor Karbasi (Israel) – Orchestra Baobab (Senegal) – Rachid Taha (Algeria) – Ceilidh with Sharon Shannon Big Band feat. Shane MacGowan, Damien Dempsey & Mundy (Ireland (Irish Republic)) – DJ Marky (Brazil) – Sudd MM (Sicily) – Sufi Night with Sheikh Taha, Monajat Yulchieva & Asif Ali Khan (Egypt) – Babylon Circus (France) – Dengue Fever (Cambodia) – Nathan 'Flutebox' Lee (India) – Siyaya (Zimbabwe) – Son de la Frontera (Spain) – Speed Caravan (Algeria) – Children Of The Khmer – Cambodian Dance (Cambodia) – Martha Wainwright (Canada) – Billy Cobham & Asere (Cuba)
In readiness for what many regard as an annual pilgrimage, the crew at WOMAD have been busy redesigning the site at Charlton Park. Busy doubling the amount of trackway so that to-ing and fro-ing is direct and hassle-free. Relocating the open air stage and main arena to a large robust field with a gently sloping incline. Installing permanent stone track ways around the main arena to ensure smooth and swift servicing of all areas without vehicles ever crossing this central space. Moving the vintage fairground, a beloved and popular WOMAD institution – next to a hard and handy stone track.
The camping area now comes with an extra 35 acres – and there's more space for parking. There is an enticing array of accommodation options, from deluxe boutique camping in Royal Maharaja Shikar tents and VIP camping to oh-so-comfy tipis, yurts and plywood Podpad hobbit-houses. Camping phobic? The Tangerine Fields Crew will assemble a 2, 4 or 6 person tent ready for your arrival (complete with airbed and brand new sleeping bag) and pack it up again once you've gone. And because we all deserve peace of mind, a subtle but alert police presence will ensure that the camping area is, indeed, as safe as houses.
Communication has been similarly improved: stewards are savvy, plentiful, on-message. Information boards positioned at key points across the site will deliver up-to-the-minute information on everything from who's performing where and with whom to workshop timings and traffic conditions; festival goers can leave messages on designated boards as well. WOMAD Radio – will be broadcast over a 20mile radius, offering a 24 hour mix of music, artist interviews and site-specific updates.
With its arboretum, open lawns and rolling fields, the idyllic Charlton Park is now more accessible than ever: frequent shuttle buses will run from both Kemble and Chippenham stations, and into nearby Malmsbury. On-site, Fair Mobility Scooters are available – complete with training and full instructions – for those who may need them.
More than 250 stallholders in the Global Village will be ready with their food and drink; their arts, crafts and merchandise. A full program of dance and percussion workshops has been designed for both adults and children. Look out for cookery sessions in the Taste the World Cafe. Late night dance music sessions with the cutting edge DJs. A Sufi Night. An Irish Ceilidh. The irrepressibly gorgeous children's procession on Sunday.
Author:
TJ Nelson
TJ Nelson is a regular CD reviewer and editor at World Music Central. She is also a fiction writer. Check out her latest book, Chasing Athena's Shadow.
Set in Pineboro, North Carolina, Chasing Athena's Shadow follows the adventures of Grace, an adult literacy teacher, as she seeks to solve a long forgotten family mystery. Her charmingly dysfunctional family is of little help in her quest. Along with her best friends, an attractive Mexican teacher and an amiable gay chef, Grace must find the one fading memory that holds the key to why Grace's great-grandmother, Athena, shot her husband on the courthouse steps in 1931.
Traversing the line between the Old South and New South, Grace will have to dig into the past to uncover Athena's true crime.