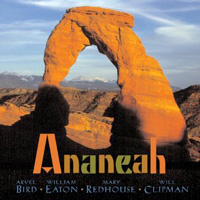 Arvel Bird/Will Clipman/Mary Redhouse/William Eaton
Ananeah (Singing Wolf Records SWF 90304-2, 2006)
I've long been keen on Native American-based music that breaks the mold of what some folks think Native American music ought to be. This is one such disc, and though it came out two years ago, it merits mention in the here and now for several reasons.
First, it prominently features the violin, not exactly an indigenous staple. Played with subtle mastery by Arvel Bird, the violin here has a sad/sweet duality, particularly in those passages where it does some easy-flowing tradeoffs with the lovely hybrid stringed instruments built and played by guitarist/luthier William Eaton. Second, even though that most identifiable of Native American instruments, the cedar flute, is present, it comes and goes like a shadowy spirit and is stronger precisely because of its sparseness.
The flute here is handled by Mary Redhouse, who also does some nimble work on the electric bass that often urges the proceedings in a jazzy direction. (Her otherworldly vocalizations, which you sometimes really have to prick up your ears to hear, are craftily blended in as well.) Third, whereas many suppose that Native American sounds are customarily accompanied by steady pounding on some large drum, there is a wide range of percussion from both hemispheres on this CD, and Will Clipman has an unfailing sense of what sort of percussion sound is needed and to what degree. Fourth, most of these tracks were improvised and played extemporaneously in the studio, and the give-and-take amongst the players is remarkable.
So what of the music itself? Well, that's where the title comes in. Ananeah is a Pauite Indian word that means "what do you call it?" and how to categorize this disc begs the question as well. As the panoramic view on the cover shows, the music invokes the feel of the American southwest. And as the liner notes state, these instrumentals were inspired largely by the mythology (and facts) surrounding the Pauite people. So while some of the pieces are as full of precise finesse as chamber music and others as laid back as an impromptu jam session at a friend's house, all possess a beauty that's warm, inviting and just a bit mysterious. And that's all the categorizing you need, really.
Buy Ananeah
Author:
Tom Orr
Tom Orr is a California-based writer whose talent and mental stability are of an equally questionable nature. His hobbies include ignoring trends, striking dramatic poses in front of his ever-tolerant wife and watching helplessly as his kids surpass him in all desirable traits.