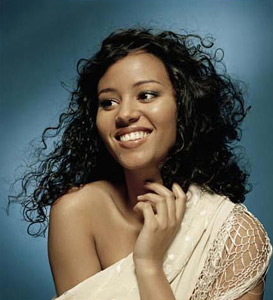 Chicago (Illinois), USA – The Chicago Department of Cultural Affairs, Millennium Park presents the third year of the popular international music series, Music Without Borders, featuring traditional folk and pop artists from around the globe. The series, which consists of six free concerts at the Jay Pritzker Pavilion in Millennium Park, features music from Spain, the Dominican Republic, Senegal, Sudan, Buenos Aires and beyond. Music Without Borders is part of the City of Chicago's ongoing celebration of world music.

"This series was created to introduce Chicago to artists they might have never heard before," said Michael Orlove, Senior Program Director at the Chicago Department of Cultural Affairs. "In many cases, these artists are stars in their own countries, and now Chicago audiences have a chance to learn about and enjoy their astonishing music." Music Without Borders is supported by a grant from the Governor's International Arts Exchange Program of the Illinois Arts Council and National Geographic Traveler. United Airlines is the Official Airline and The Fairmont Chicago is the Official Hotel for Music Without Borders.Miquel Gil and the Arab Orchestra of Barcelona / Maria del Mar Bonet
June 19, 6:30 pm
Legendary Spanish artist Miquel Gil, who has been a fixture in Valencian music for decades, is one of the biggest voices of the Mediterranean root music scene. Another one of Spain's most celebrated voices, María del Mar Bonet, has popularized the songs of Mallorca through her countless collaborations with flamenco, jazz, and Arabic music. Bonet will collaborate with Gil and the virtuosic Arab Orchestra of Barcelona along with Llibert Fortuny (saxophone) and Nino Galissa (kora). Supported by Institut Ramon Lllull.
The Bachata Roja Concert: Unsung Heroes, Rediscovered Icons / Mayra Andrade
June 26, 6:30 pm
Rediscover the early icons from the Dominican Republic who pioneered the romantic, guitar-driven ballads and dance rhythms of the Afro-Caribbean beat – singers Ramon Cordero and El Chivo Sin Ley, guitar giant Edilio Paredes – and discover singer-guitarist Joan Soriano, an emerging bachatero star from today's younger generation. Cape Verdean singer Mayra Andrade opens the night.
Orchestra Baobab
June 28, 8:30 pm (please note later start time)
Orchestra Baobab returns to Chicago with Made in Dakar, an album that celebrates this Senegalese super-group's roots in one of the world's most explosive musical cities. An iconic band, their music includes a range of influences from Afro-Cuban and Portuguese Creole to Congolese rumba, high life, calypso, American soul and traditional Senegalese styles.
Sudanese Music and Dance Festival 2008
July 10, 6:30 pm
This Chicago premiere features an unprecedented roster of Sudanese musicians and performing artists in a gesture of peace and hope for a unified Sudan. This tour brings together Abdel Gadir Salim, Omer Ihas, Rasha, Abu Araki, Al Balabil Sisters, Yousif El Mosely, Emmanuel Kembe and Omar Bhanga, for the first time ever together on stage, all performing with the Nile Music Orchestra of Sudan. Supported by the Fry Foundation.
Pitchfork Music Festival Preview Night
July 17, 6:30 pm
This Music Without Borders/Pitchfork Music Festival co-presentation features an evening filled with an eclectic sampling of music from around the globe. As a kick-off event to the 2008 Pitchfork Music Festival in Union Park (July 18-20), music fans will get to sample some of the Festival's weekend highlights at one of the world's most spectacular outdoor venues. The full evening line-up will be announced soon on the Pitchfork Media and Millennium Park websites.
Bajofondo Tango Club / Fernando Otero
August 27, 6:30 pm
Bajofondo Tango Club Fernando Otero
Direct from Buenos Aires is the electronic tango project, Bajofondo Tango Club, lead by Gustavo Santaolalla, the Oscar-winning composer of the film Brokeback Mountain and Babel. With Santaolalla on guitar, it's an evening that showcases the past, present and future of the tango. Opening the evening is Argentine composer and pianist Fernando Otero, along with Nick Danielson on violin.
About Millennium Park
Millennium Park is located in the heart of downtown Chicago. It is bordered by Michigan Avenue to the east, Columbus Drive to the west, Randolph Street to the north and Monroe Street to the south. Convenient parking is located in the Millennium Park Garage (entrance on Columbus at Monroe or Randolph) and at the Grant Park North and East Monroe Garages, all located within a short walking distance to Millennium Park.
Millennium Park is an award-winning center for art, music, architecture and landscape design. The result of a unique partnership between the City of Chicago and the philanthropic community, the 24.5-acre park features the work of world-renowned architects, planners, artists and designers. Among Millennium Park's prominent features are the Frank Gehry-designed Jay Pritzker Pavilion, the most sophisticated outdoor concert venue of its kind in the United States; the interactive Crown Fountain by Jaume Plensa; the contemporary Lurie Garden designed by the team of Gustafson Guthrie
For more information, call 312.742.1168 or visit www.millenniumpark.org.
Author:
World Music Central News Department
World music news from the editors at World Music Central