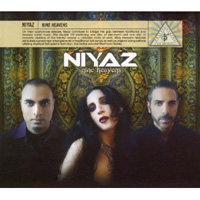 Six Degrees Records announced the new album from Niyaz, titled Nine Heavens. Nine Heavens will be released as a double CD (featuring one disc of electronic and one disc of acoustic versions of the tracks) on June 24, 2008. Niyaz consists of three prominent artists, Azam Ali, best known as the vocalist of the successful world music group Vas, Loga Ramin Torkian, the multi-instrumentalist and composer for the critically acclaimed group Axiom of Choice, and Carmen Rizzo, a two time Grammy Award nominee producer and remixer.
Continuing to bridge the gap between traditional and modern world music, Niyaz follows up 2005's critically acclaimed and highly successful self-debut album with another recording of traditional sounds balanced tastefully with modern electronics.
Nine Heavens, the second album by this dynamic trio, reveals a much more complex body of work featuring nine intricately carved original arrangements and compositions of traditional folk songs and mystical Sufi poems from Iran, the Indian sub-continent and Turkey. With a strong emphasis on composition, Niyaz centers on the deep interconnectedness between the music of Iran, India and Turkey, and delves further into the traditional melodies of these regions with outstanding performances by its core members as well as guest musicians of the highest caliber from these three traditions.The lyrical framework for Nine Heavens once again features beautiful Persian and Urdu mystical poems by some of the greatest Sufi poets, two original interpretations of traditional folk songs from Khorassan, Iran, and one soulful folk song from Maras, Turkey. For the Iranian portion of the album, Niyaz shift their focus from the beloved Sufi poet Rumi, onto another great Iranian 13th century mystic/poet/musician, Amir Khosrau Dehlavi who was born and raised in India and went on to become an iconic figure in the cultural history of the Indian sub-continent where he is revered to this day by thousands. For Niyaz, Dehlavi's work embodies the very spirit of their music, which focuses on the timeless exchange between these two cultures. For the Urdu portion of the album, Niyaz features Ghazals and Rubaiyats by renowned 18th century Sufi poets Khwaja Mir Dard and Hali.
Niyaz's debut album was hailed by critics worldwide as a groundbreaking recording. Having set this standard of outstanding achievement, Niyaz purports to break new ground with Nine Heavens, which will be released in two versions. One will be the acoustic/electronic version embodying the original concept of the band, which is to bridge the gap between the traditional and modern by creating a finely tuned balance of acoustic and electronic music. The second will be a solely acoustic version of the album, which will feature a more organic approach with a stronger emphasis on traditional acoustic instrumentation with added percussion. The intent is to make accessible to audiences who prefer the more acoustic approach when it comes to world music as well as fans of electronica, a version of the album, which is more suitable to their individual palette.
Niyaz have quickly become musical pioneers of a generation of Iranians who struggle to maintain their cultural identity while living in the west where they are generally portrayed very negatively in the media. It is the aim of these artists to transcend cultural and religious differences through their music, utilizing the ageless spiritual poetry of revered mystics whose works reveal the commonality of the human experience and can serve as a unifying factor in today's diverse societies.
Buy the CDs of MP3 downloads:
Other recordings available:
Author:
World Music Central News Department
World music news from the editors at World Music Central