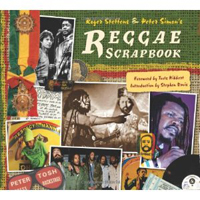 Roger Steffens and Peter Simon – Reggae Scrapbook (Insight Editions, 2007)
I don't get hooked on many books, but two that caught my attention and remain favorites are 1977's Reggae Bloodlines and 1983's Reggae International, both of which were collaborated upon by writer Stephen Davis and photographer Peter Simon. Simon's photographs are likewise part of what makes this new examination of reggae as classic as that earlier pair and Davis provides an eloquent introduction, but the bulk of the text this time was penned by Roger Steffens.
Steffens is a Los Angeles-based author, actor and lecturer (his multimedia presentations on Bob Marley are amazing) who possesses the largest private collection of reggae memorabilia in the known world. It's his decades-long love for reggae that led to his amassing such a collection, and that affection is evident in every word and image the Reggae Scrapbook contains.
The book's perspective is both heartfelt and historical, with Steffens and Simon outlining the story of Jamaican music from the pre-ska era to now. They spotlight key figures and personal favorites, comprehensively tying in such factors as politics, cultural identity, ganja, and of course the Rastafarian faith.
Bob Marley's legacy (including the ongoing works of his offspring) is naturally a major factor in these pages, but the story goes far higher and deeper. Profiles of Toots Hibbert (who penned the book's foreword), Jimmy Cliff, Burning Spear, Culture, Dennis Brown, producer Clement "Coxson" Dodd and many more are framed by stunning visuals as the progression of reggae is recounted up to the dancehall era, the resurgence of the original roots style and the international status the music enjoys today.
Throughout it all, Steffens and Simon never come across as elitist insiders. Despite having interviewed, photographed and befriended so many reggae greats, they're first and foremost fans whose commendable efforts to raise a greater awareness of reggae have benefited all those who regard it as much more than just music.
While the sheer depth and scope of the book are impressive enough, the design truly makes it spring to life. Distributed liberally throughout the pages are images of treasures from Steffens' vast archives: Posters, photos, badges, album covers, singles, autographed knick-knacks, various depictions of the red, gold and green Rastafari colors and even the hot-off-the-press UPI news release on the 1987 murder of original Wailer and reggae legend Peter Tosh.
Some of these visual embellishments are tucked away in little nooks that require a keen eye to spot; others jump right out at you in an almost pop-up book manner. It's a lot to take in, and you may want to flip through a few times and simply soak up all there is to look at before you start reading. Once you do immerse yourself in the words, you'll find the anecdotal tone perfectly suited to the laid back but always-passionate sense of purpose from which reggae continues to draw its unique strength.< Included as well is a DVD of revealing moments from many of Steffens' interviews, often conducted with the archives as a backdrop, showing what a labor of Jah Love the years leading up to this book have obviously been. A scrapbook it may be, but there's nothing scrappy about it. Consider it a must for even the casual reggae fan. < Buy the book:
Author:
Tom Orr
Tom Orr is a California-based writer whose talent and mental stability are of an equally questionable nature. His hobbies include ignoring trends, striking dramatic poses in front of his ever-tolerant wife and watching helplessly as his kids surpass him in all desirable traits.