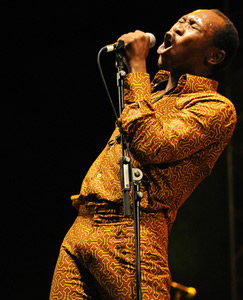 San Francisco (California), USA – Stern Grove Festival announced its 71st Season of 10 admission-free world music, Latin and roots music concerts, Sundays at 2:00 p.m. from June 15 through August 17, 2008 at Sigmund Stern Grove, located at 19th Avenue and Sloat Boulevard in San Francisco. Since its founding in 1938, Stern Grove Festival has shared world-class performing arts with hundreds of thousands of visitors in one of the country's most beautiful and unique natural settings.
June 15 – Booker T. Jones and Bettye LaVette
Rock and Roll Hall of Famer Booker T. Jones is a legendary figure in the world of R&B and popular music. Both as a solo artist and with the MG's, Jones has amassed an impressive string of hits, including the instrumental"Green Onions," and performed as a session musician on some of R&B's most seminal songs, including "Sittin' on the Dock of the Bay" and "Try a Little Tenderness."
Soul singer Bettye LaVette brings her powerful vocals and scorching sound to Stern Grove. A veteran of Detroit's R&B music scene, LaVette struggled to break through for decades, until a shelved Atlantic recording was discovered and released in 2000, catapulting her from cult status to a bona fide soul music legend.
Today's performance is dedicated to the memory of Rosalie M. Stern, donor of Stern Grove to San Francisco and founder of the Stern Grove Festival Association. Radio sponsor is KBLX.
June 22 – Seun Kuti and Egypt 80 and Sila and the Afrofunk Experience
Following in the footsteps of his father, the late Nigerian legend Fela Kuti, Seun Kuti and Egypt 80 bring a powerhouse blend of funk, jazz, and Afrobeat. Seun began performing with Egypt 80 at age nine and has led the band as vocalist and saxophonist since he was fifteen. Performing regularly throughout Europe and Africa, Seun Kuti and Egypt 80 have amassed legions of fans worldwide, and are set to release their self-titled debut album this spring. This will be their first appearance in San Francisco.
Opening the afternoon will be local club favorite, Sila and the AfroFunk Experience, with a dance-friendly fusion of African rhythms, soukous, Afrobeat, and reggae.
Concert sponsored by Wells Fargo. Media sponsor is SFStation.com. Radio sponsor is KPFA.
July 6 – Allen Toussaint and Trombone Shorty and Orleans Avenue
With a career spanning more than forty years, Rock and Roll Hall of Famer Allen Toussaint is one of America's greatest musical icons. A singer, pianist, songwriter, arranger, and producer, Toussaint penned hits like "Mother-in-Law," "Working in the Coal Mine," and the Grammy-nominated "Southern Nights," and produced artists such as Etta James, Patti LaBelle, and Dr. John.
Trombone Shorty and Orleans Avenue open the afternoon with an infectious blend of Big Easy sounds with funk, pop, and hip-hop. A virtuoso trombone
and trumpet player from New Orleans, Trombone Shorty has toured with Lenny Kravitz and performed with U2 and Green Day at the re-opening of the New
Orleans Superdome for the NFL's Monday Night Football pre-game show.
July 13 – Rachid Taha and MC Rai
French-Algerian artist Rachid Taha brings a powerful fusion of traditional Arabic rai music with modern rock, punk, and dance music. With his rough vocal style and influences ranging from Johnny Cash and Marvin Gaye, to Kraftwerk and Public Enemy, Taha is a formidable talent with an international reputation. Taha is the recipient of this year's prestigious BBC 3 Radio World Music award.
Tunisian-born and Los Angeles-based MC Rai gets the afternoon started with his persuasive mix of hip-hop, rock, and rai music.
Concert sponsored by Wells Fargo. Radio sponsor is KPFA.

July 20 – Alonzo King's LINES Ballet Featuring Pharoah Sanders
Internationally acclaimed local dance ensemble Alonzo King's LINES Ballet will perform Moroccan and Migration with live musical accompaniment from saxophonist Pharoah Sanders and The Moroccans. The afternoon also features an American premiere pas de deux choreographed by Alonzo King for former San Francisco Ballet principal dancer Muriel Maffre and former LINES Ballet dancer Prince Credell.

July 27 – Voices of Latin Rock and SambaDá
Voices of Latin Rock is a celebration of a unique sound born in San Francisco's Mission District and made popular by bands like Santana, Malo, and Sapo, who melded the rhythms of Latin music with funk, soul, and rock. The afternoon's line-up includes veteran performers like Jorge Santana and Gabriel Manzo of Malo, Abel Sanchez of Abel and the Prophets, and trumpeter Bill Ortiz from Santana, among others.
Opening the show will be local Brazilian group SambaDá, with their groove-heavy blend of African rhythms, salsa, funk, hip-hop, and rock.
Media sponsor is SFStation.com. Radio sponsor is KPFA.
August 3 – Bajofondo Tango Club and Si* Sé
With roots in Argentina and Uruguay, Bajofondo is an eclectic collective of musicians who fuse diverse electronic genres (house, trance, trip-hop, dub, drum and bass, and more) with the dramatic sounds of tango music. The group began as a project of composer Gustavo Santaolalla, who received Academy Awards for his work on the original soundtracks for Brokeback Mountain and Babel. Also performing will be New York Latin electronica sensation Si*Sé, with their soulful sound. Formed in 2000 by singer/DJ Carol C. and programmer U.F. Low, Si*Sé's music has been featured on television shows like Sex and the City, Six Feet Under, and One Tree Hill, and they have performed alongside David Byrne, Cesaria Evora, James Brown, Norah Jones, and Kraftwerk.
Radio sponsor is KPFA.
August 10 – One Hawai'i
Featuring Na Leo, Ernie Cruz, Jr. , Kaukahi, One Right Turn, and more
Stern Grove Festival celebrates the sounds of the Islands with an all-star afternoon of music and dance. Joining together for the first time onstage will be Na Leo, the most popular female music group in Hawai'i; guitarist, vocalist, ukulele player, and former member of the Ka'au Crater Boys, Ernie Cruz, Jr.; Kaukahi, who toured recently with Jack Johnson; and One Right Turn with Connie Cruz, Tiffa Cruz-Garza (Ernie Cruz Jr.'s sisters), and singer/ukulele player and member of the Opihi Pickers, Imua Garza.
Today's performance is made possible with support from the Rhoda H. Goldman Memorial Fund and is dedicated to the memory of Rhoda H. Goldman, Festival Chair from 1968 to 1996. Media sponsor is SFStation.com.
All concerts begin at 2:00 p.m. at Sigmund Stern Grove, located at 19th Avenue and Sloat Boulevard (in San Francisco's Sunset/Parkside district). All Stern Grove Festival events are ADMISSION-FREE; no tickets are required. Concertgoers are encouraged to arrive early for the best lawn seating and may bring picnics, low beach chairs, and ground covers. Tall chairs, beach umbrellas, and pets are prohibited in Stern Grove during concerts. Patrons may be required to restrict the size of blankets or tarps due to space limitations. Unoccupied blankets are subject to removal. Designated benches are reserved for seniors over the age of 65 and disabled persons with one guest until 30 minutes prior to concert time. To ensure the safety and comfort of patrons at each performance, the concert meadow will be closed to further entry if capacity is reached. Patrons are not guaranteed seating in the meadow.
Beginning this season, households can enter to receive six picnic table seats at one concert per season. Entries will be chosen at random and notified the week before the concert by Stern Grove Festival. Entries will be accepted online at www.sterngrove.org/picnictableseats or by mail. To mail in an entry, provide the following REQUIRED information on a postcard: full name, dates of the concerts patrons would like to attend, complete mailing address and phone number. Households may submit one entry per concert or indicate multiple concert dates on one entry. Entries must be received by the Monday before the concert patrons want to attend. Entries should be mailed to: Stern Grove Festival Picnic Table Seating, 44 Page Street, Suite 600, San Francisco, CA 94102.
Food and drinks are available from the Grove Café and Festival merchandise and artist CDs are for sale at the Festival Shop. Free shuttle service within the Grove is provided to seniors and disabled patrons. Limited parking is offered on a first-come, first-served basis at the Vale Avenue entrance to Stern Grove on Sloat Boulevard.
Sigmund Stern Grove is a 33-acre recreation area with meadows, picnic facilities, hiking trails, and a lake. The audience is advised to come prepared for both sun and fog.
Visit the Stern Grove Festival website at www.sterngrove.org or call (415) 252-6252.
Stern Grove Festival's 71st Season is made possible with support from Season Sponsor Parkmerced. Additional support provided by Grants for the Arts/San Francisco Hotel Tax Fund, National Endowment for the Arts, The William and Flora Hewlett Foundation, Wells Fargo, and media sponsor KPIX Channel 5, CW Bay Area, SFStation.com, and SF Weekly.
Author:
World Music Central News Department
World music news from the editors at World Music Central