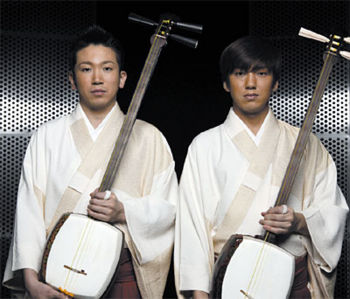 Toronto, Canada – The Yoshida Brothers will be performing Sunday, May 25 at 8:00 pm at Enwave Theatre in Toronto. Superstars in their native Japan, young tsugaru-shamisen virtuosos Ryoichiro and Kenichi Yoshida, The Yoshida Brothers have begun a cultural revolution with their muscular reinvention of the ancient three-stringed instrument, giving it the fiery passion of a rock 'n roll guitar. With their signature East-meets-West interpretation of a time-honored musical form, they are fast winning major international acclaim.
By coaxing startlingly vivid sounds out of their timeless instruments, they have reinvigorated tsugaru-shamisen for a new generation, incorporating elements of jazz, American folk, pop, Latin music, blues and more into their unique musical tapestry.
The roots of The Yoshida Brothers music are found in an historic, five centuries old genre first developed in a snowy, rural region of northern Japan by street buskers, who earned spare change playing melodies and rhythms reflecting their tough lot in life. The words tsugaru shamisen denote both the ancient folk idiom and the primitive, banjo/lute-like instrument on which it's played. The tsugaru is the largest of the three principal types of shamisen, giving it the fullest sound.
On the all-new III, their third U.S. album release on Domo Records, the charismatic duo's fusion of the ancestral and the avant garde innovates further with thirteen tracks ranging from the stunningly shredding to the masterfully serene. Stand-out tracks range from "Erghen Diado," written by famed world musicologist Marcel Cellier (Zamfir), to a potently hypnotic and psychedelic take on Brian Eno's "By This River" and a minimalist and beautiful version of John Lennon and Yoko Ono's "Oh My Love."
Enwave Theatre, 231 Queens Quay W.
Sunday, May 25 @ 8:00 pm
Tickets: $30 advance @ 416 973-4000
Available CDs: Yoshida Brothers , Yoshida Brothers, Vol. 2, III, and Hishou.
Author:
World Music Central News Department
World music news from the editors at World Music Central