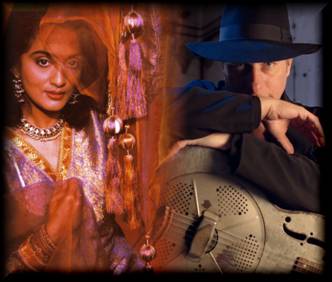 For the first time, Najma Akhtar and Gary Lucas will be performing on May 3rd at Joe's Pub in New York City all new material from their much anticipated and soon to be completed studio recording. Akhtar, who lives in London, will be making her first New York appearance in 10 years having last performed in New York at Central Park's Summerstage. Lucas is a legendary New York-based performer and recording artist who tours all over the world, performing solo or with his supergroup, Gods and Monsters.
Akhtar and Lucas have been fans of each other's work for many years, finally meeting in London in May of 2007. Lucas's enormous admiration of Akhtar's artistry developed when he first heard her 1989 critically acclaimed album Atish, which reached #4 on the World Music charts. Akhtar became an admirer of Lucas's after hearing Jeff Buckley's Grace album. Lucas, who co-wrote "Grace" and "Mojo Pin", played guitar on the recording which was recently voted the #1 classic album by Mojo.After their meeting in London, Akhtar and Lucas instantly decided they wanted to collaborate on a project. They each enjoy the challenge of collaborating with other musicians, having worked with some of the biggest names in music. Akhtar with Ian Anderson, Jimmy Page and Robert Plant (MTV Unplugged and the album, No Quarter and Andy Summers. Lucas with Buckley, Don Van Vliet (Captain Beefheart) and most recently Chris Cornell to name a few.
The fusion of influences and musical styles that Akhtar and Lucas have brought to this partnership has made the music they're creating absolutely brilliant and wonderfully unique. They're looking forward to this upcoming night in May to perform their exciting new music for a live audience for the very first time. Dibyarka Chatterjee, on tabla, will join Akhtar and Lucas for this performance.
Najma's most recent CD is Vivid.
When: Saturday, May 3rd
Where: Joe's Pub, 425 Lafayette St, New York, NY
Time: 9:30 pm
Cost: $20.00
Joe's Pub Phone: 212-967-7555
Table Reservations: 212-539-8778
Website: www.joespub.com
To listen to "Rishte", a track Akhtar and Lucas recorded in October of 2007,  visit this link at the Joe's Pub website. www.joespub.com/component/option,com_shows/task,view/Itemid,40/id,3754
Author:
World Music Central News Department
World music news from the editors at World Music Central