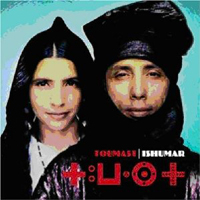 Toumast – Ishumar (Real World/Ryko USCDRW148, 2008)
Etran Finatawa – Desert Crossroads (Riverboat Records/World Music Network TUGCD 1048, 2008)
Justin Adams & Juldeh Camara – Soul Science (World Village 468076, 2008)
The Malian band Tinariwen is getting a lot of recognition nowadays as the primary trailblazers in the raw, guitar-driven music that's come to be known as "desert blues," "desert trance," "Saharan rock" or something of the sort. Great though Tinariwen may be (and they are), they're not the only ones bringing such music to the world.
Like the members of Tinariwen, Toumast leader Moussa Ag Keyna fought in the wars that brought his people, the nomadic Tuareg, greater rights and recognition under the governments of Mali and Niger. After being seriously wounded in 1993, Keyna was evacuated to France, where he absorbed the music of several African and American guitar heroes before putting aside his gun for the more peaceful militancy of music making. He hooked up with female vocalist/percussionist Aminatou Goumar, forming the core duo of what was to become Toumast (Tuareg for "identity").
With assistance from producer/multi-instrumentalist Dan Levy and some Paris-based players, Toumast's first album has arrived. And it's mighty fine. If you've heard Tinariwen, there'll be a healthy degree of familiarity here. But Ishumar (taken from the French for ldquo;unemployment") is not the work of mere imitators. Where Tinariwen often go for slower-burning songs, Toumast tend to rock out more. That's not to say their music isn't hypnotic, because it certainly is. Jangly guitar riffs laced with muttering bass and clattering (sometimes Gnawa-ish) percussion lead the way, and Keyna and Goumar's voices blend with a passion that reminds me a little of Mali's Amadou & Mariam.
They aren't afraid to let a song take the time to wind down slow and easy "Dounia"), add a shade of hip-hop ("Maraou Oran") or throw in strings for sweetening ("Amidinine"). There are only nine tracks on the disc, but each jams with a fire that's stoked just right. Give thanks that Keyna chose the guitar over the gun, since it led to a release as splendid as this. An early contender for 2008's top ten list.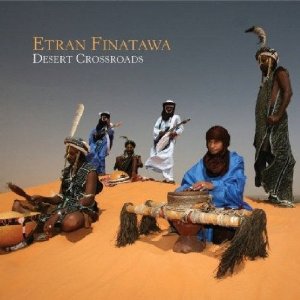 Back for a second album is Etran Finatawa, whose 2006 debut Introducing Etran Finatawa is a disc I've kept close at hand since it came out. Their new Desert Crossroads (the title at least partially a blues reference, perhaps?) was recorded in a mere four days in London and, as the liner notes recount, what a four days they must have been. But you can read about that yourself once you purchase this CD.
Hailing from Niger, Etran Finatawa is comprised of both Tuareg and Wodaabe members, and the two tribal identities mesh warmly and deeply on songs that yearn for the simplicity of nomadic life, celebrate the beauty of desert cultures and even challenge the notion held in certain Islamic societies that performing music ought to be forbidden. Again, some sandy common ground with Tinariwen is shared, though the sound of Etran Finatawa is set apart via a more pronounced combination of vocal traditions and electric/acoustic textures, plus the use of the traditional tende drum in the percussion section.
The rhythms often seem to be simultaneously strolling and running and the vocals that crown them, whether semi-spoken or proclaimed in full, bask amid ear-catching chord changes, vibrant guitar leads and bumping beats that never falter. The sound, save for a couple of tracks that hypnotically feature a wind instrument called a doudandou, isn't remarkably different from that of their first album. It's simply more of a great thing (literally so, since the running time is about 15 minutes longer than on the first disc). Highly recommended.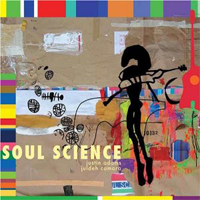 Not really in the same desert-blues-or-what-have-you category but sharing many sonic similarities is Soul Science, a stunning work by Justin Adams and Juldeh Camara set to be released in the U.S. on May 13th.
Adams produced two of Tinariwen's albums and plays guitar in rocker Robert Plant's band. Camara is a Gambian singer and ritti (single-stringed fiddle) player. Their disc is a masterful combination of West African tradition, blues and rock that you'll likely be hearing much more about in the days to come. Consider yourself forewarned, and be sure to secure a copy.
Buy the CDs:
Other Tuareg CDs available in North America:
Other Tuareg CDs available in Europe:
Other non-Tuareg desert blues albums CDs available in Europe:
Author:
Tom Orr
Tom Orr is a California-based writer whose talent and mental stability are of an equally questionable nature. His hobbies include ignoring trends, striking dramatic poses in front of his ever-tolerant wife and watching helplessly as his kids surpass him in all desirable traits.