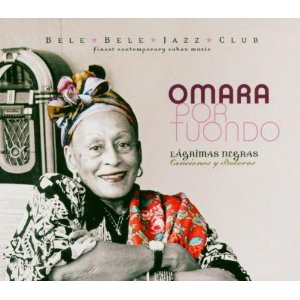 Omara Portuondo
Lágrimas Negras – Canciones y Boleros (Yemaya Records, 2005)
Kudos go to the Spanish label Yemayá Records for the 2-disc release of Omara Portuondo's Lágrimas Negras – Canciones y Boleros. Featuring the boleros and canciones sung by one of Cuba's premier singers Omara Portuondo, this plumy collection has been constructed out of a 1997 Havana recording produced by Jorge Rodríguez and several recordings taken from span of Ms. Portuondo's considerable career from the 60s, 70s and 80s.
Since taking on the title of the Diva of the Buena Vista Social Club after Ms. Portuondo joined the famed Buena Vista Social Club, this recording would be sorely lacking without the participation of such Buena Vista Social Club greats as trumpeter Manuel "Guajiro" Mirabal, bassist Orlando "Cachaíto" López, percussionist Armandito Valdés, trombonists Jesús "Aguaje" Ramos and pianist Rubén González. If names like those weren't incentive enough, there's also musical greats such as guitarist Martin Rogas, tres player Pancho Amat, flautist Richard Egues, violist Armandito Garcia and trombonist Juan Pablo Torres who make appearances on this CD.
The first CD includes the lush boleros "Increible," "Te Queria" and "Libre de Pecado." Ms. Portuondo's poetic interpretation and masterful command of a song make tracks like "Campanitas de Cristal" and the lively bolero cha "La Ultima Noche" priceless.
CD two is equally stupendous with the rousing "Obertura" and cancion "Hasta Siempre." It just gets better with "Interludio," "Lagrimas Negras" and "Vuela Pena." My favorites have to be "Gracias a la Vida" and "Por qué dudas." While firmly rooted in the Cuban sound on CD 1, the second CD offers up some jazzier pieces where Ms. Portuondo proves she can turn a phrase inside out just as easily as Miles Davis could with a single note.
Ms. Portuondo's exceptional vocals leave a listener utterly boneless, completely unable to resist her captivating phrasing and her gutsy soulfulness that oozes from every track.
Buy the double CD:
Author:
TJ Nelson
TJ Nelson is a regular CD reviewer and editor at World Music Central. She is also a fiction writer. Check out her latest book, Chasing Athena's Shadow.
Set in Pineboro, North Carolina, Chasing Athena's Shadow follows the adventures of Grace, an adult literacy teacher, as she seeks to solve a long forgotten family mystery. Her charmingly dysfunctional family is of little help in her quest. Along with her best friends, an attractive Mexican teacher and an amiable gay chef, Grace must find the one fading memory that holds the key to why Grace's great-grandmother, Athena, shot her husband on the courthouse steps in 1931.
Traversing the line between the Old South and New South, Grace will have to dig into the past to uncover Athena's true crime.