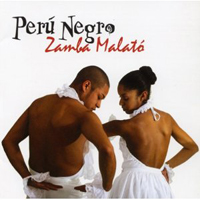 Peru Negro – Zamba Malató (Times Square Records TSQ-CD-9066, 2008)
Chicha Libre – ¡Sonido Amazónico! (Barbes Records BROO17, 2008)
There's nothing wrong with pan flutes, goat hoof rattles and wispy Andean melodies, but we all know there's more to Peruvian music than that. The Afro-Peruvian genre is thriving thanks to the commitment and talent of artists such as Susana Baca, Eva Ayllón and Perú Negro.
Despite more than 30 years as a performing ensemble, it's only far more recently that Perú Negro's recorded work has become part of their legacy and that of Afro-Peruvian music. Zamba Malató is their third international release and their best yet. The African-rooted rhythms that the slave era, colonialism and modernization couldn't snuff out are still front and center, and they're more glorious thanks to the group's incorporating of batá-style drums and the African jembe into their percussion arsenal of congas, bongos, cowbells, jawbones, scrapers, shakers and signature cajón (wooden box drum).
Their rhythmic might is most evident on the blistering percussion-and-voice tracks "Festejo de Ritmo" and "Afro," and in fact much of the disc's strength lies in how melodic they manage to make the layers of percussion sound. But there's plentiful richness in Peru Negro's entwined guitars and bass (which have gotten a trifle more funky) and their call-and-response vocals that trade off male and female voices intricately and gloriously.
I've yet to see Perú Negro live, but by all accounts they're a spectacle of music and dance that brings longstanding traditional styles (lando, festejo, tondero, etc.) to modern audiences in a perfect blend of folkloric grace and contemporary showmanship. Until I catch them on stage, this latest slice of how excellent they are on disc will do quite nicely.
While Perú Negro and their peers have been keeping Afro-Peru in the spotlight, a once-obscure Peruvian genre has been making waves in the wider world. In the late 1960s, with rock and roll becoming more sonically sophisticated and socially conscious, a greater number of countries and cultures began working aspects of it into their own music.
Chicha, which combined electric guitars and keyboards with clip-cloppy rhythms borrowed in part from Colombian cumbia, was Peru's rock/funk/indigenous hybrid. The percussion and vocals were distinctly Latin but the guitars and keys were equal parts, surf rock, Western movie soundtrack, mock exotic camp and experimental fun. Peru's upper class reviled chicha (named for a type of corn liquor) while the working folks embraced it.
Last years' compilation The Roots of Chicha: Psychedelic Cumbias from Peru (also on Barbes Records) was a revelation to those of us who never knew this stuff existed, and delightfully so. The spirited sounds of chicha bands previously popular only within Peruvian borders of decades past were now available for Latin rare groove enthusiasts far and wide.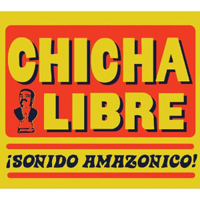 Chicha Libre isn't one of those original outfits- they're a here-and-now band from Brooklyn led by a gent named Oliver Conan who owns a club called Barbes, started the Barbes record label and went to great lengths to compile that Roots of Chicha CD. He and his mates in Chicha Libre faithfully reproduce the classic chicha sound on ¡Sonido Amazónico! without being slaves to it. They channel the music of classical composers like Ravel, adapt the familiar instrumental hit "Popcorn," work in a French chanson feel on "Indian Summer" and weave subtle acoustic strains via the use of the ukulele-like Venezuelan cuatro.
So while this is chicha fusion to some degree, it still has the feel of something long lost, mysterious and decidedly out there. The jerky Latin rhythms, crinkly guitars, tart keyboards and easygoing vocals are irresistible throughout, making Sonido Amazonico! a terrific combination of old and new.
Buy the CDs:
Author:
Tom Orr
Tom Orr is a California-based writer whose talent and mental stability are of an equally questionable nature. His hobbies include ignoring trends, striking dramatic poses in front of his ever-tolerant wife and watching helplessly as his kids surpass him in all desirable traits.