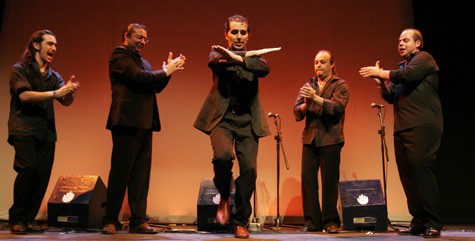 Son de la Frontera is a group of innovative flamenco musicians, made up of young heirs and followers of the Diego del Gastor school, and who through the fusion and dialogue between the Cuban tres and the flamenco guitar achieve a creative reinterpretation of his musical legacy.
The group was originally founded in 1998 as the accompanying group of Martirio, recording and on tour all over Spain and Latin America. Musician and anthropologist Raúl Rodríguez (Seville, 1974), guitarist Paco de Amparo (Morón de la Frontera, 1969), dancer Pepe Torres (Seville, 1978), singer Moi de Morón (Morón de la Frontera, 1977) and clapper Manuel Flores (Morón de la Frontera, 1969) make up the band. They make also the first solid incorporation of the Cuban tres in flamenco music. The first album, Son de la Frontera, was released by Nuevos Medios in July, 2004.
Son de la Frontera delves deeper into its particular tribute to the legendary guitarist Diego del Gastor on their second album, 'Cal'. The flamenco group takes advantage of the unique sound of the metal strings on Raúl Rodríguez's Cuban tres, to offer the most orthodox flamenco a new sound. With Paco de Amparo on guitar, Moi de Morón on cante, Pepe Torres on baile and Manuel Flores on compás, they perform new versions of pieces by the maestro, taking up cante classics such as Manuel Torre, Pinini and Enrique el Mellizo, and of course, they add compositions of their own, like 'Soleá del amor'. The record was recorded in Morón de la Frontera, the land which inspires the band and its music.
Interview with the group (courtesy of Sasa Music)
Silvia Calado. Madrid, July 2004
Translation: Gary Cook
Five musicians walk the fine line between flamenco and the other musical styles the world has to offer, between traditional and modern… Five musicians thrown together by life's little coincidences in Morón de la Frontera, more precisely in the belly of Diego del Gastor's guitar. With the legacy of the famous Morón guitarist as their departure point, and with a tres – a Cuban guitar with three pairs of strings – as the craft in which to sail to the opposite shores of the Atlantic, Son de la Frontera provide a musical offering whose input is local and whose output is universal.
With the ample experience of their time spent playing with Martirio behind them, Raúl Rodríguez (tres cubano), Paco de Amparo (guitar), Pepe Torres (dance), Moi de Morón (cante) and Manuel Flores (compás) are natural and inquisitive enough to throw a hitherto unopened door wide open. "This isn't a journey into the vaults, just a way of making music that maybe we need today."
How was Son de la Frontera founded?
The Diego del Gastor school was already in place and his relatives were playing on the circuit. I started going to Morón in '95 as a guitarist, looking for that source of inspiration. The following year I started to meet the people from my generation of that family, the great nephews of Diego del Gastor, the nephews of Dieguito de Morón, of Juan del Gastor, of Paco del Gastor and of Andorrano, who are grandsons of Joselero. And I started playing with them.
In '97 my mother – Martirio – brought me a Cuban tres back from Havana. She'd been invited by Compay Segundo to go and sing with him. And then I saw it: we could play flamenco falsetas with this instrument. For a few years I just played it at parties, with no kind of aim to develop it into something or make use of it in some way. Then when I saw that it wasn't a bad idea, and that Andorrano, Dieguito and the older ones liked it, we decided to make use of it.
When I met Paco de Amparo and Pepe Torres (the two great nephews of Diego del Gastor), and Manuel Flores and Luis Torres, Andorrano's son, we started working as a backing group for Martirio from 1998 onward. We spent the last six years making records with her – 'Flor de piel' and 'Mucho corazón' – and doing all the tours, especially in Latin America and the U.S.

How much was the birth of the group down to Martirio?
That contact had a lot to do with it. The work with my mother as producer and arranger was to take all those boleros and tangos and give them the flamenco treatment. It was like trying to do the same thing as Fernanda de Utrera did with Diego del Gastor thirty years earlier, when they sang boleros and popular cuplés. Doing that kind of cultural exchange, but in a modern context, I tried to put that great style of playing into contact with musical styles from the Americas, which I think have a lot more in common with flamenco than people think. We played these flamenco falsetas over Venezuelan, Colombian, Cuban, Argentinean rhythms… And we saw that the code wasn't as air-tight as people think.
How would you describe the music you make?
The songwriting is based on music by Diego del Gastor. And using his falsetas as a starting point, we draw everything out of them we can. We twist and turn it in every direction, never leaving his music, which is extremely rich, and at the same time needs to be taken to a wider audience. I like to struggle to stop it being thought of as dead and buried. It's very much alive.
The piece 'Guitarras de cal' gave rise to the debate as to whether 'toque de Morón' constitutes a school in itself, whether it's a way of playing…
You have to look at it in context. The only instrument there was in Morón to play popular music on during the 20th century was the guitar… and to be more precise, Diego's guitar. There is a school, I say that because there are plenty of creations which come out of Morón, not just techniques. As Diego was the only guitarist to put all the music together, he absorbed all the influences into the belly of his guitar. His best-known falseta probably comes from 'La Zarzamora'. And he also played in front of Americans from the military base in Morón, who brought with them a very modern concept of music, very sixties, very counter-cultural. And he had to convince them.
There are a lot of features that are closer to blues or rock than those that many flamenco guitarists have done since. I feel like in Morón Diego's guitar was a music box. And today you just have to open the box and let it play itself, it not only has its own stamp, but it's musically very rich – both very modern and very traditional at the same time.
So starting there, what do you hope to contribute?
When you put the tres in there, it begins to break down a little. The sonority starts to broaden, there's plectrum work, that has parallels with other string instruments, and the steel strings which long since disappeared from flamenco make a reappearance. We want to show we can take this music to heart, play it respectfully, intelligently but in a carefree way. If in Sierra Leone they can make their own music based on what the elders sing, then we can do it too, so long as your approach is one of a new musical style. It shouldn't be a journey into the vaults, just a way of immersing yourself in a form of music that maybe we need today
Buy the CDs:
Next concerts:
Saturday 26 April
Festival Jazzkaar
Tallinn (Estonia)
Sunday 4 May
Martirio and Son de la Frontera
Huercal de Almería (Spain)
Plaza de la Constitución
Saturday 10 May
Artistas invitados: David "El Galli" y Juan del Gastor
Morón de la Frontera (Sevilla, Spain)
Teatro de Oriente
Friday 16 May
Flamenco Festival Brussels
Brussels (Belgium)
Palaix du Beaux Arts
Saturday 24 May
Festival de la Guitarra
Hospitalet de Llobregat
(Barcelona, Spain) Teatro Joventut
Sunday 25 May
Hay Festival
Hay-on-wey (U.K.)
Tuesday 27 May
Festival Suma Flamenca
Programa doble con Chano Lobato
Madrid – Teatro Albéniz (Spain)
Thursday 5 de June
Festival Flamenco
Segovia- Torreón de Lozoya (Spain)
Friday 20 de June
Fiestas de Arahal
Arahal (Sevilla, Spain)
Thursday 3 July
Festival de Músicas Gitanas
Lisbon (Portugal)
Wednesday 9 July
Artista invitado: David "El Galli"
Alcalá de Guadaira (Sevilla, Spain)
Thursday 10 July
Festival de la Alegría
Chauen (Morocco)
Saturday 19 July
Festival de Peralada
Con Martirio y Lila Downs
Gerona (Spain)
Castell de Peralada
Sunday 20 July
Festival GREC 2008
Barcelona – Plaza del Rey (Spain)
Wednesday 23 July
Veranos de la Villa 08
Con Martirio y Lila Downs
Madrid (Spain)
Cuartel del Conde Duque – 21:30h
Wednesday 30 July
Gala BBC
World Music Awards
London – Royal Albert Hall (U.K.)
Author:
World Music Central News Department
World music news from the editors at World Music Central