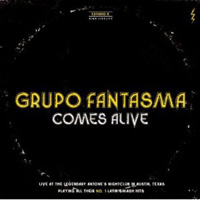 Grupo Fantasma – Comes Alive (Airesol Records ASCD007, 2006)
Brownout – Homenaje (Freestyle Records FSRCD033, 2007)
Ocote Soul Sounds and Adrian Quesada – The Alchemist Manifesto (ESL Music ESL 130, 2008)
I really must get to Austin, Texas one of these days. I keep hearing about what a great multicultural city it is, with a music scene to match. Based on some recent recorded evidence I've received, the Latin side of that scene certainly seems to be in good shape. Which is not to say that Austin's Grupo Fantasma is strictly a local phenomenon. They've brought their sound, which seamlessly incorporates funk, jazz, cumbia, salsa and Latin rock, to audiences as far away as London. In addition they've served as Prince's backup and opening band and shared the stage with many other pop and world music notables.
What makes 'em so special? Well, one listen to their CD Comes Alive, recorded in concert in their hometown, will tell you. Their instrumental chops are machete-sharp, their vocals are infectious and energetic, their songs are laden with catchy hooks, twists and turns, and their live performance sounds so dang hot that I half expected the disc to be drenched in perspiration when I pulled it out of the player.
The instrumentation of two guitars, bass, four-piece horn section, drums, congas and timbales is an odd one for a Latin band in that there's no piano. So it's the guitars that provide rippling precision and pronounced riffing while the rhythm section and horns keep the tunes tightly and tastily sandwiched in among lead vocals and refrains that scale to party-hearty heights. And when the players solo, prepare to be impressed. It's mainly strong original material heard here, plus a smoking cover of Ray Barretto's "Cocinando." These guys are very much alive, and kicking like a mighty musical mule.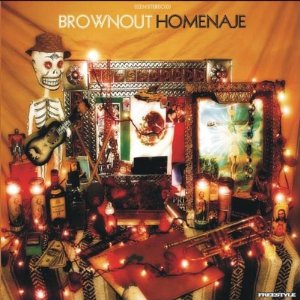 The bulk of Grupo Fantasma's members are also part of a side project called Brownout, whose CD Homenaje is a primarily instrumental work rooted in acid jazz, soul, rare groove, African inflections (there's even a lesser-known Manu Dibango tune covered) and the experimental side of pioneering Latin music label Fania Records. These sounds are more for the hipster side of the party: comparatively laid-back rhythms, exquisitely brooding melodic lines and solos, unpolished but perfectly suited percussion, horns that both stab and slice, vintage keyboards and an attitude that's as far from mainstream Latin pop as possible.
It's excellent stuff, and my only quibble is that the shorter tracks could have easily gone on a minute or two longer. As great as the Grupo Fantasma release is, this one's a little bit better. It's clear that Austin's musical happenings include not only explosive live shows but the means to make outstanding studio recordings as well.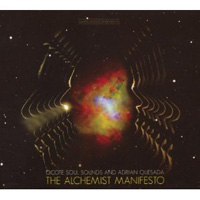 But wait, there's more. Guitarist Adrian Quesada, who's active in both Grupo Fantasma and Brownout and must be one heck of a busy guy, has been collaborating with Martin Perna, leader of NYC Afrobeat masters Antibalas. Their CD called The Alchemist Manifesto won't be released until June 10th, and as the saying goes, good things come to those who wait. Though Quesada's primary axe is the guitar and Perna (a.k.a. Ocote Soul Sounds) is a master of the flute and saxophone, both play multiple instruments here. And they've enlisted a roster of guest musicians from their respective backgrounds to create a work which blends foundational Latin rhythms, melodies and vocal snippets with modern electronica so expertly and cunningly that both traditional-leaning and progressive-minded listeners will be entranced. I'm not sure why such a title was chosen for this disc, since the participants were clearly already dealing with the musical equivalent of precious metals. What they've done is given them a modern sheen, and it's dazzling. < Buy the CDs or download:
Author:
Tom Orr
Tom Orr is a California-based writer whose talent and mental stability are of an equally questionable nature. His hobbies include ignoring trends, striking dramatic poses in front of his ever-tolerant wife and watching helplessly as his kids surpass him in all desirable traits.