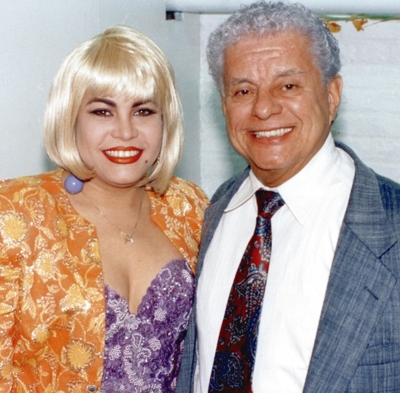 New York (NY), USA – Thanks to the efforts of several people who were close to him––the famous bandleader Tito Puente is being honored by the state of New York this month.
The idea for the salute to Mr. Puente began in January with Yolanda Duke, the popular Latin songstress who spent many years performing with the Tito Puente Orchestra, sharing the stage with the Maestro himself in concert appearances all over the world. She and her husband, Andy Grullon, expressed their desire to pay tribute to Tito with Margie Puente and with friend Bob Sancho. They contacted New York Congressman José Serrano, Senator Reverend Rubén Díaz and Councilman Miguel Martínez with the idea.As a result of their efforts, on April 14th, from the offices of Congressman Serrano, Councilman Martínez and Senator Reverend Díaz will arrive to the library of Hostos Community College at 2:00 PM, with a proclamation declaring April 14th to April 20th as Tito Puente Official Week in New York and to honor Mr. Puente's contribution to our Latin Culture. Ms. Margie Puente will be present to receive the proclamations to honor her late husband.
The timing is fitting, as the famous bandleader, who was raised in El Barrio, New York City and left us in 2000, would have been 85 years old on April 20th.
To help celebrate the occasion, Yolanda Duke, also known as La Duke, will sing at the event, performing some of the songs from her new CD, entitled Many Moods, a Big Band-flavored collection of American and Latin classic songs that she recorded with The Tito Puente Orchestra. The project was the culmination of a long-time dream she shared with Tito to record beloved standards, and it's dedicated to his memory. José Lacay a popular singer from the Dominican Republic will also perform at the event.
As part of the tribute to Tito will be the display of a Tito Puente bust at the Museum of San Juan Puerto Rico, created by one of Puerto Rico's up-and-coming sculptors A. Rivera–in a nod to Puente's Puerto Rican heritage.
Author:
World Music Central News Department
World music news from the editors at World Music Central