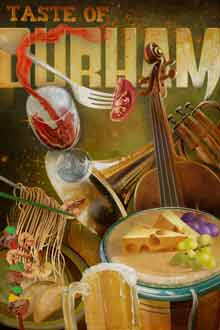 The Taste of Durham Festival in Durham, North Carolina, announced the highlights of main stage entertainment for May 2008. The artists featured include:
Jose Conde y Ola Fresca, featuring some of the best musicians in New York City, coming together for a fresh take on rootsy, funky, jazzy, Latin dance music; they have had amazing press, from New York Times to NPR.
Seth Walker: The driving delivery and infectious down-home style of his voice and songs resonate with Blues and Roots music. Having shared the stage with icons such as Ray Charles, B.B. King and Jimmie Vaughan, Walker has established himself in the music world as a unique and compelling performer. Walker delivers 'a different point of blue' in today's ever-changing world and his eclectic blend of outstanding guitar talent and rootsy, soul filled vocals will thrill any music fan.
The Afromotive is a thundering 10-piece ensemble from Asheville, North Carolina, escorting Afrobeat music into the modern age and taking the dance floor with them. They are fueled by a three-piece horn section and an unstoppable rhythm section and musical dance excursions (Read the CD review The Two Coasts of Afrobeat).
The Boogie Hustlers, a product of Pittsburgh, plays urban Funk & Soul rooted in the heavy pocket grooves of funky soul and jazz artists of past and present. They are recognized for their diverse and funky brand of music carried out and highlighted by energetic performances. A bounty of more entertainment will be announced.
John Brown Jazz Orchestra: features a professional large jazz ensemble made up of some of North Carolina's top musicians. Specializing in performing traditional compositions from the Great American Songbook and today's cutting-edge arrangements, the orchestra performs a wide range of material covering all eras of jazz. The repertoire includes the music and arrangements of many jazz legends. A 13-15 piece horn section backed by a 3-5 piece rhythm section and complemented by male and female vocalists make this a powerhouse ensemble!
Taste of Durham Festival transports you to a good place, great food, live music, and a slice of the good life infused with an international twist. Art and cultural themes and opportunities to celebrate the good life are woven into festival activities. The festival continues to bring quality national, regional, and local performers and other international and cultural music genres and performers, ethnic dance demonstrations, and unique interactive celebrations like the New Orleans-style Mardi Gras Parade. The festival also is a welcoming platform to support talented and diverse artists and musicians from all walks of the "world." Extra-special events are in store for the kids. Interactive activities and internationally focused performers, dancers, and entertainers are just some of the many exciting plans.
Each year the festival designates spaces for a cross-selection of various types and styles of restaurants, caterers, and food-related companies to create an eclectic variety of food sampling. Invitations are based on quality, variety, reputation, professionalism, creative cuisine, and just plain good food! Savor the gourmet, home-style, and international food samples from area food establishments. Some of the best local chefs, restaurateurs, and creative caterers will showcase their talents with demonstrations and offer a wide assortment of food samples to please any palate.
Festivals within a Festival: Restaurant Food Sampling, Performance Stages: Main, Performance Showcase, Taste of Jazz & Blues, International Dance Demonstrations, International Wine Tasting Pavilion, International Beer Tasting Garden, Chef Demonstrations: Foodnetwork Style Staging, Taste of New Orleans' Mardi Gras, Kids Corner, Art is Alive: Interactive Showcase of Art and Cultural Exploration, Vendor & Exhibitor Displays, and new segments for 2008 to be announced. To fully appreciate the ambiance and activities is to experience it for yourself.
The Taste of Durham Festival is is produced by The Community Chest, Inc., (501-c-3) a nonprofit organization with passionate commitments to serve community interests and enrichments.
Date: Saturday, May 24th, 2008
Location: Imperial Center, All Outdoors, surrounding Winchester Place, 4309 Emperor Blvd., Durham, NC 27703 (Page Rd Exit 282 off Interstate 40 near Sheraton Imperial Hotel)
General Admission: $4 advance & $6 at festival. Advance tickets sold at Triangle-wide Harris Teeters. Time: 11am to 7pm
Coins for food and beverages sold separately
Website: www.tasteofdurham.org
Author:
World Music Central News Department
World music news from the editors at World Music Central