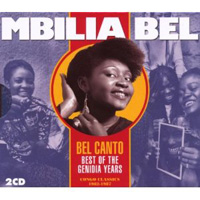 Mbilia Bel – Bel Canto: The Best of the Genidia Years (Stern's Africa STCD3037/3038, 2007)
Wendo Kolosoy – On the Rumba River (Marabi 46822.2, 2007)
Madilu System – La Bonne Humeur (Stern's Africa STCD1104, 2007)
Fans of the Congolese sound have seldom had it so good as far asavailability of great recordings goes, and the tough old bird that isCongolese music still stands strong in large part through the works of its longtime stars.
As a companion release to their fine early Tabu Ley Rochereau collection The Voice of Lightness, Stern's Africa now does similar justice to Mbilia Bel, who began as a singer and dancer in Rochereau's band in the early '80s. Rochereau quickly realized what an explosive talent Bel was in her own right, and set about grooming her for stardom (the two were also married for a few years, but their musical partnership was more fruitful than their personal one).
Bel Canto: The Best of the Genidia Years is two lengthy CDs overflowing with gorgeous selections taken from albums released on Rochereau's Genidia label.
Bel's clear, strongly crisp vocal quality is evident from the start and the more tender side she showed on songs of love and longing sweetens the balance. Recorded between 1982 and 1987, the tracks show the path toward more modern production values that Congolese music was taking at the time.
Bel matches the sophisticated sound with graceful phrasing and pure style that never overreaches in capturing the nuances of the Lingala language and how lovely it could be in sung form. The players on these sessions are all top tier, as the chiming guitars, subtle Latinized rhythms and spine-tingling touches like the flute accompaniment on "Ba Gerants ya Mabala" shows. Still active today, Mbilia Bel has never recaptured the magic of this early work. Nevertheless, her formative years under Rochereau's guidance made her the most celebrated female voice in Congolese music and she remains so.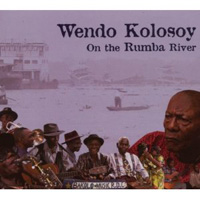 Now well over 80 years old, Congolese legend Wendo Kolosoy had his first hit with the chestnut "Marie-Louise" in 1948. He's the subject of the upcoming documentary film On the Rumba River, which shares its name with this corresponding CD release. It's an odd but very good assemblage of tracks laid down in 1972, 1993 and 2004.
As the most recent of the lot attest, Kolosoy's gravelly-sweet voice isn't as supple as it used to be. Even given that, the 2004 songs have a loose, unpolished jam-session feel that's totally engaging. Factor in a solid remake of "Marie-Louise," the stripped-down greatness of the earliest tracks and the contributions of such players as likembe master Antoine Moundanda, and the result is, while hardly a complete overview of Wendo's storied career, still a potent glimpse into it.
The August 2007 death of Madilu System silenced one of the Congo's great voices, but thankfully his final album La Bonne Humeur is an excellent release that makes the farewell even fonder. Madilu first made a splash with T.P.O.K. Jazz, the band helmed by Congolese guitar god Franco, singing, among others, the enduring "Mario" (which he remade salsa-style in 2006 with Africando).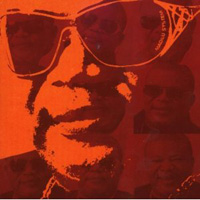 After Franco's passing in 1989, Madilu moved on to a successful solo career. His high, keening way of singing mellowed into a durable bear hug of a voice that served him well to the end. Joining in on his final outing are vocalists Nyboma and Wuta Wayi from the supergroup Kekele (with whom Madilu did a recent guest turn as well) and esteemed musicians like guitarist Syran Mbenza and drummer Komba Bellow. Madilu's caressing lead voice nestles among unflagging vocal support and the musical backing bridges the gap between classic rumba and modern soukous superbly and seamlessly, making the disc absolutely glow for all of 78 minutes. Believe me, I'm not gushing just because the guy died: this really is one of the best Congolese discs currently out there.
Buy the CDs:
Author:
Tom Orr
Tom Orr is a California-based writer whose talent and mental stability are of an equally questionable nature. His hobbies include ignoring trends, striking dramatic poses in front of his ever-tolerant wife and watching helplessly as his kids surpass him in all desirable traits.