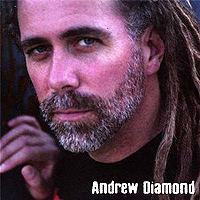 My ongoing quest for reggae continues to yield results from lands beyond the music's Jamaican origins. The quality varies but the best of the lot always combines a genuine reggae foundation with just enough variation to give voice to the individuality of the artist. Here are some examples.
With his handsomely graying features, Washington DC-based Andrew Diamond looks rather like a dreadlocked George Clooney on the cover of Diamond in the Rough (Sub 80, SUB001, 2007). He first got involved in reggae as a drummer, and while he doesn't have the loveliest singing voice on the planet, his bluesy growl gets a firm grip on the proceedings. He does justice to a couple of Gregory Isaacs tunes, his cover of James Taylor's "Fire and Rain" re-energizes a song I was sick of decades ago and his original material ranges from heartfelt lover's rock to conscious rebel stances. A pretty darn good album, bolstered by Diamond's obvious passion and musical backing that includes contributions by members of Jamaica's renowned Roots Radics band.
Also from the US (although I don't know exactly where he makes his home) is Seefari, whose CD Rasta Italist (Upful Sound US1015CD, 2007) is true to its title with extended meditations on Haile Selassie, ganja, spiritual unity, natural living and the absurdity of war. Seefari is a hands-on dread who plays all the instruments, sings nearly all the vocals and cultivates a murky, dub-heavy sound that's deeply pleasing whether you're the inhaling type or not (www.seefari.com).
Moving farther north into Canada (Halifax, Nova Scotia, to be exact) we come across The Only Constant (self-released, 2007) by Andru Branch. The promotional materials for this CD display in large letters a sentiment that's also one of the song titles: "Bring Back Real Reggae Music." Recording in both Canada and Jamaica, Branch makes good on that directive. He's got Jamaican vets like bassist Chris Meredith, drummer Squiddly Cole and former Wailers percussionist Seeco Patterson on board, but the home grown side of his artistry is strong also. This is indeed real reggae music, helmed by Branch on keyboards and vocals and rich with pulsating riddims, wise and witty lyrics, touches of dub and ska and a prevailing easy feel. How can you go wrong with songs that range in theme from "Unite" to "People Can Be So Stupid" ? An excellent work through and through (www.halfwaytree.ca).
Chirping birds are the first thing you hear on Unchangeable (I Grade Records IGCD0018, 2007) by Danny I, a singer from St. Croix in the Virgin Islands. Soon a drum accent kicks into the first song, but thanks to the sweetness of the beat, music and lyrics, the birdsong bliss is maintained. The Virgin Island reggae scene has been a rapidly growing one of late, and Danny I (who can sound a lot like Jamaica's Ijahman Levi), boosts it up another sizable notch here. A classic roots sound is tastily embellished with warmly entwined acoustic and electric textures, an occasional shade of hip-hop, some briskly understated horns and Danny's cautionary voice holding it all together. The music has a restless, moody and ultimately healing feel that's hard to describe, but anyone looking for a jolt of modern roots at its absolute best should seek out this CD. (www.igraderecords.com)
New Zealanders reportedly own more Bob Marley albums per capita than any other population on earth. I'll leave further fact-finding on that to someone else and instead say a few words about the latest by Katchafire, New Zealand's finest reggae band. Say What You're Thinking (Katchafire Enterprises/Ohana Records KOR, 2007) is the third Katchafire CD to be released internationally in fairly short order, and like its predecessors (Revival and Slow Burning) it's good, strong pop reggae that might put you in mind of England's UB40 or America's Big Mountain.
Lead vocals are divided between several band members (all of whom deliver nicely), harmonies are tight throughout and these guys definitely know their way around their instruments, even bringing a jazz-like crispness to some of their keyboard and sax work. Songs of love and the power of music are many, though tracks like "This World" and "Pain" show a more serious side. Katchafire's fire burns hot and bright throughout this release, warming and lighting the way toward a worldwide popularity they clearly merit.
Lastly, I must mention a six-track demo CD by a band from Brazil called GunJah. Their roots reggae is very much in the classic tradition while many of their vocal and instrumental inflections are distinctly Brazilian enough to set them apart. There are four songs and two dubs, all sounding great, and reggae fans should keep their eyes and ears open for this sampler and whatever else the group has to offer. (www.gunjah.com.br)
Author:
Tom Orr
Tom Orr is a California-based writer whose talent and mental stability are of an equally questionable nature. His hobbies include ignoring trends, striking dramatic poses in front of his ever-tolerant wife and watching helplessly as his kids surpass him in all desirable traits.