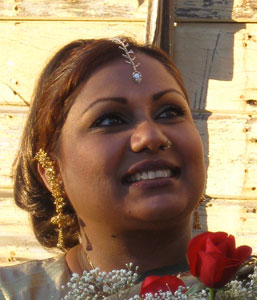 Pakistani vocalist Riffat Sultana will perform Sunday, February 24 at Ashkenaz in Berkeley, California. The acclaimed, trailblazing Pakistani classical-folk singer Riffat Sultana comes to Ashkenaz with her band for an evening of songs from her centuries-old family heritage.
Riffat Sultana and Party feature family Sufi songs like "Jivey Lal," a song in praise of Lal Shabaz Qalander, saint for Muslims and Hindus alike. They also play romantic ghazals such as "Ulfat," a song of heartbreak that laments, "My tears mix with the mud." Over the years Sultana has performed Punjabi folk, devotional Sufi songs, and classical music as well as ghazal, geet, and electronic and acoustic fusion. She is accompanied by Shiraz Ali Khan on 12-string guitar and Gurdeep Singh on tabla and dhole. Shiraz, Riffat's husband, is also a student of Ustad Salamat Ali Khan.
Riffat Salamat Sultana is the first woman from her family's musical lineage to publicly perform in the West. The daughter of Ustad Salamat Ali Khan, who was universally recognized and acclaimed as the finest Pakistani classical singer of his time, Riffat comes from a 500-year lineage of musicians hailing from the Sham Chaurasi Gharana (school of music). But growing up in Lahore, Pakistan, Riffat as a Muslim girl wasn't allowed to learn the classical music her father and four brothers performed.
On tour with her father's band, allowed to play tambura (string drone instrument), she decided to pursue singing in the West, eventually settling in the San Francisco Bay Area. Sultana sang with her brother Sukhawat Ali Khan in his band – the Ali Khan Band, later named Shabaz – for which she wrote many of the world trance songs.
Renowned DJ Cheb i Sabbah used her singing on his 1996 breakthrough CD, Shri Durga, and she has sung with everyone from fan Quincy Jones (the 2004 "We Are the Future" concert in Italy) to Jennifer Berezan (her uplifting "Praises for the World" CD and concerts). Her own music can be heard on her CD, "Sufi, Folk and Love Songs."
Sunday, February 24
Riffat Sultana
Doors at 7:30 pm; show at 8:00 pm
$12
Ashkenaz Music & Dance Community Center
1317 San Pablo Ave. at Gilman, Berkeley, CA 94702
Web sites:
Author:
World Music Central News Department
World music news from the editors at World Music Central