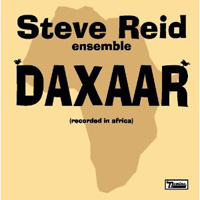 Steve Reid Ensemble
Daxaar (Domino Recording Co. DNO 165, 2007)
Steve Reid isn't one of those musicians who just happened to come across the splendor of Africa and African music. The veteran drummer (who in the past 40-plus years has played with more notables in soul, jazz, pop and global music than I'm about to rattle off) journeyed to Africa as a Black Panther in the late '60s, stayed for three years and returned convinced that rhythm is the root of all music and that rhythm is rooted in Africa.
Few who know anything about drumming are going to argue the point, and anyone in need of proof or already in the fold should give a listen to Daxaar , a crackling good jam session that Reid recorded in Senegal with top tier players like Youssou N'Dour's guitarist Jimi Mbaye.
The disc takes its name from an old spelling of Dakar (Senegal's capital city) and an African atmosphere is established straight off with the opening "Welcome," a kora-and-voice piece composed and played by Isa Kouyate.
After this pensive, griot-like beginning, the jump from ancient to modern Africa takes place. The title track and the four that follow are lengthy affairs, powered as much by the deft might of Reid's drums and Khadim Badji's hand percussion as by the overlaid electronic quirks provided by frequent Reid collaborator Kieran Hebden.
Trumpeter Roger Ongolo gets fully into the thick by track three, "Jiggy Jiggy," blowing pure joy before giving the solo space over to keyboardist Boris Netsvetaev. "Dabronxxar" further solidifies the band's give and take with Dembel Diop's sneaky, slightly sinister bass line nudging a spiraling arrangement that Mbaye plays off of with particular subtlety. Next up is "Big G's Family," (Big G being God) which locks in with gamelan-like sounds from Hebden and Reid's tom-tom fills matching wits with Badji's congas as the others once again take turns doing their thing.
Lastly, "Don't Look Back" builds up around a nervously repetitive keyboard riff before breaking down with final bursts of creativity from one and all. This is one amazing album, seamlessly blending Africa, jazz, funk and electronica through spontaneous yet all-on-the-same-page musical expertise that's unbeatable.
Buy the CD:
Author:
Tom Orr
Tom Orr is a California-based writer whose talent and mental stability are of an equally questionable nature. His hobbies include ignoring trends, striking dramatic poses in front of his ever-tolerant wife and watching helplessly as his kids surpass him in all desirable traits.