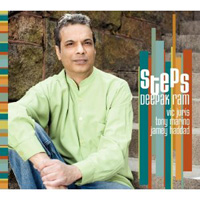 Deepak Ram
Steps (Golden Horn Records GHP 031-2, 2008)
India's bamboo bansuri flute is hardly a jazz instrument, but that doesn't stop South African-born Indian musician from using it to lead the way on the set of jazz covers and originals that comprise Steps. Ram embraced jazz before Indian music and retained his love for the former even after studying with bansuri master Pandit Hariprasad Chaurasia.
Armed with the understanding that a certain degree of improvisation is integral to both types of music, he sought to combine them. There were no doubt some tricky nuances and specifics involved in the task, but Ram pulled it off. The result is this sweetly engaging CD, on which Ram is joined by Vic Juris (guitar), Tony Marino (bass) and Jamey Haddad (drums and percussion).
Re-interpreted standards along the lines of the Gershwin brothers' "Summertime," Rodgers and Hart's "My Funny Valentine" and John Coltrane's "Giant Steps" (which Ram was once told would be impossible to play on the bansuri) take on surprising new swing and a pair of Ram originals- "Madiba's Dance" and "Blues for Shyam Babu" -show his Indian/jazz/African predilections melding with lighthearted expertise.
Since this is a jazz session, all the players get to shine. The woody tones of the bansuri go from sprightly to melancholy and never sound anything less than right at home. Steps reminds me a bit of R. Carlos Nakai's more experimental works on the Native American flute: a wind instrument is placed boldly but unpretentiously in a setting where many would opine it doesn't belong, and the results are quite lovely.
Buy Steps
Author:
Tom Orr
Tom Orr is a California-based writer whose talent and mental stability are of an equally questionable nature. His hobbies include ignoring trends, striking dramatic poses in front of his ever-tolerant wife and watching helplessly as his kids surpass him in all desirable traits.