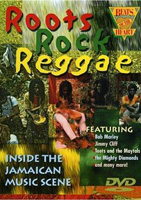 Roots, Rock, Reggae (Digital Classics DVD DC10018, 2007)
Salsa (Digital Classics DVD DC10014, 2007)
Along with Rhythm of Resistance (an examination of South African music during apartheid), Roots, Rock, Reggae and Salsa are part of the late-'70s Beats of the Heart series by documentarian Jeremy Marre. Even given how far world music has come in the years since these were made, the recently re-released films are still a freshly engaging look at their respective topics. They probe well below the surface, and what they reveal are fascinating early looks at genres that, despite their ups and downs, have never lost their original impact.
By 1977 Bob Marley and the Wailers were well on their way to bringing reggae worldwide. Marley does figure briefly into Roots, Rock, Reggae, but the film also gives ample time to such key artists as Jimmy Cliff, Inner Circle, the Mighty Diamonds, the Abyssinians, Lee Perry, U-Roy and Wailers mentor Joe Higgs. Marre combines concert and studio performance footage (look closely to see a young Sly and Robbie) with scenes of poverty-stricken blight, Rastafarian life and the workings of the Jamaican music industry.
To the reggae fan, it all serves as a reminder of why the music mattered in the first place: the underlying spirituality, soulfulness and determination which fuels reggae's signature pulse.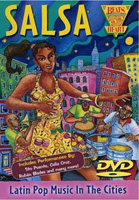 1979's Salsa goes deep into the heart of Hispanic New York City, opening with Tito Puente and his band blazing through a free outdoor gig in the Bronx. It's a perfect setup for the film's detailed, music-laced account of the Caribbean origins of Latin rhythms and how they caught on like wildfire in the U.S. Puerto Rican, Cuban and African roots are factored in, the impact of music on the Latino immigrant experience naturally plays a role and luminaries like Celia Cruz, Ray Barretto and Rubén Blades are featured.
While Latin music achieved considerable commercial success through the prolific Fania Records label, its appeal is examined on a more grass roots level, as in scenes of pianist Charlie Palmieri teaching school kids the basics of rhythm and testimony by community activist Felipe Luciano.
Both titles have been digitally restored and enhanced with bonus music tracks, director's commentary (very enlightening in each case) and extensive liner notes. Powerful combinations of music and in-the-moment visuals, these DVDs are true treasures.
Buy Roots, Rock, Reggae and Salsa
Author:
Tom Orr
Tom Orr is a California-based writer whose talent and mental stability are of an equally questionable nature. His hobbies include ignoring trends, striking dramatic poses in front of his ever-tolerant wife and watching helplessly as his kids surpass him in all desirable traits.