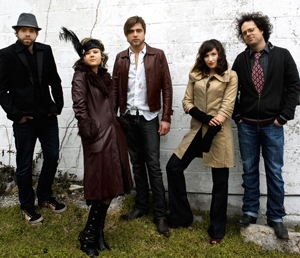 Infusing her native Gaelic song traditions with world and contemporary influences, Alyth McCormack shares the bill January 31 at Celtic Connections 2008 with pioneering Scottish harpist Savourna Stevenson, whose sound draws from across the spectrum of musical genres.
In recognition of the power of world voices, Celtic Connections brings together two fabled female choirs from Italy and Bulgaria with one of Scotland's longest-established Gaelic choirs, in a massed celebration of song that promises a truly unforgettable night.Coro delle Mondine di Novi (the Novi Rice Weeders' Choir) began life as its original founders toiled in Italy's rice fields during World War II, singing to alleviate the drudgery, meanwhile smuggling messages and weapons for the resistance. After the war, the songs they shared became emblems of freedom, passed on in turn to their children, and now form the basis of the 35 strong choir's spellbinding show Di Madre in Figlia (From Mother to Daughter), a collaboration with the young folk/fusion band Fiamma Fumana.
Joining them tonight is the legendary Bulgarian Women's Choir, Angelite, whose extraordinary harmonic and rhythmic blend draws on vocal traditions dating back some 2000 years, the Aberfeldy Gaelic Choir, who celebrated their 40th anniversary in 2007, directed here by the celebrated singer and folklorist Margaret Bennett and flying the flag for Scotland will be the well-known harmony trio of Corrina Hewat, Annie Grace and Karine Polwart as well as the sublime, earthy vocals of renowned Lewis Gaelic singer Mairi Smith.
Complete program:
Iain Anderson In Conversation
Ewan McVicar & Tom Dalzell
Thu 31 January, 12:30pm
£3.50
Glasgow Royal Concert Hall, Exhibition Hall
BBC Radio Scotland's Iain Anderson hosts an eclectic mix of local figures as well as musicians performing at the festival for a lunch time blether.
Danny Kyle's Open Stage hosted by Gibb Todd
Thu 31 January, 5pm
Free
Glasgow Royal Concert Hall, Exhibition Hall
Hosted by Danny Kyle's good friends Gibb Todd and Liz Clark, the Open Stage is a chance to see new musical talent as they try to win a coveted support slot at next year's festival – and all absolutely free!
In partnership with the Evening Times
Alyth McCormack & Savourna Stevenson
Thu 31 January, 6pm
£10
City Halls, Recital Room
Voices of the World
Thu 31 January, 7:30pm
£18, £16
Glasgow Royal Concert Hall, Main Auditorium
The Duhks with Tim O'Brien
Thu 31 January, 7:30pm
£15
ABC
After winning a rapturous reception on their debut Celtic Connections visit in 2007, the determinedly unclassifiable Canadian five-piece The Duhks return to Glasgow with more joyfully genre spanning music.
Seething away in their melting-pot of styles and influences are Celtic, Appalachian, soul, gospel, Latin, old-timey and zydeco flavors, stirred together with equal parts silky sophistication and raw edged verve. New vocalist Sarah Dugas joins the familiar faces of Tania Elizabeth (fiddle), Jordan McConnell (guitar), Leonard Podolak (banjo) and Scott Senior (percussion).
Tim O'Brien's production credit on the Duhks' last album, Migrations, represents just one of the umpteen creative hats juggled by this most prolific and multi-talented of artists.
As underlined by his 2006 Grammy for Fiddler's Green, Tim's foremost gifts are as a singer, songwriter and multi-instrumentalist, a master at interpreting and reinvigorating the canon of US roots music, from Celtic-derived fiddle tunes to Bob Dylan songs, while extending it with his own finely-wrought compositions.
The Megantic Outlaw with special guests
Thu 31 January, 7:30pm
£12.50
The Classic Grand
A new show devised by Lewis musician and teacher Calum Martin, best known for his Gaelic psalm recordings with the Back Free Church congregation, The Megantic Outlaw takes its name from that popularly bestowed on Donald Morrison (1858-1894), a once-celebrated figure in the frontier folklore of Quebec, where his parents settled after being cleared from Lewis.
After shooting a bounty-hunter over a disputed family debt, Morrison spent ten months on the run, frequently sheltered by other Scottish settlers in the region. Martin's Gaelic folk-rock song cycle, recently released on CD, begins with the family's voyage from Lewis, following the story through to Morrison's capture, imprisonment, and eventual death following a hunger-strike.
Helping Calum perform The Megantic Outlaw album live will be an all star Trans-Atlantic band, consisting of Runrig members Malcolm Jones (guitarist/piper/multi -instrumentalist) and Blair Douglas (accordion/keyboard) as well as Fraser Fifield (saxophone/pipes/whistles) a hugely individual and multi-talented musician who transcends various musical genres and one of the youngest ever traditional Mod Gold Medallists Isobel Ann Martin (backing vocals).
From Nashville comes Arvel Bird, the most popular Native American recording artist on tour today who secured top honors as Artist of the Year at the Native American Music Awards in 2007.
Fiddle Rendezvous
Thu 31 January, 8pm
£12.50
Glasgow Royal Concert Hall, Strathclyde Suite
Offering a sneak Celtic Connections preview of a show that most of Scotland won't see until its Tune Up! tour in May, Fiddle Rendezvous features three top fiddlers covering a diverse array of international styles, each performing with their own duo partner and collaborating in brand-new combinations.
Appalachian and old-timey maestro Bruce Molsky teams up with Gaelic singer and clarsach player Mary Ann Kennedy, ex Lá Lugh frontman Gerry O'Connor with Breton guitarist Gilles Le Bigot, and Scotland's Mike Vass with sister Ali on piano and vocals.
Allan MacDonald & friends
Thu 31 January, 8pm
£12.50
St Andrew's in the Square
One of the great piping fraternity from Glenuig in Lochaber, twice winner of the Inverness Clasp, Allan MacDonald is especially renowned for his exploration of the relationship between piobaireachd and Gaelic song. He will be joined on-stage this evening by some surprise special guests.
Songs of Scotland
Gie Me the Days When We Were Young hosted by Ishbel MacAskill
Thu 31 January, 8pm
£8.50
Universal
Over the last two years the Songs of Scotland series has looked at different regions of Scotland and the songs that have emerged from these areas.
For the 2008 festival the series looks at different themes that occur in Scots song, mixing Gaelic and Scots, and how they have inspired songwriters and singers throughout generations.
Each of the ten themes will showcase a selection of songs, so each night will see the audience taken on a journey of discovery through different languages, dialects and stories, all linked with one common theme.
Luka Bloom with Cara Dillon
Thu 31 January, 8pm
£16
Old Fruitmarket
One of Ireland's best-loved singer-songwriters, Luka Bloom retains an innocence and optimism in his work that translate neither as naïveté nor wishful thinking: rather an eloquent belief in human communion – musical or otherwise – as a force for good. This has largely been the inspiration behind his latest acclaimed album Tribe.
His incredibly gifted electro-acoustic guitar-playing guarantees an impassioned live performance of his original, poetic and melodic songs, having honed his craft whilst on tour with various acts including his older brother, Christy Moore, The Pogues, The Violent Femmes and The Dixie Chicks.
Cara Dillon, too, has a voice that transcends boundaries, its uncannily pure, exquisitely expressive tones first heard in the band Oige when she was just fifteen. Now pursuing a successful solo career, she aligns her love of traditional ballads with subtle pop and country influences, most recently on her 2006 album After the Morning.
BBC Radio Scotland 92-95FM & 810MW Live Radio Broadcasts
Travelling Folk
Thu 31 January, 8pm
Free but ticketed
BBC Scotland, Pacific Quay
Archie Fisher introduces a varied selection of some of the finest acts appearing at the festival, in a special show live from Pacific Quay.
Celtic Connections Festival Club hosted by Gibb Todd
Thu 31 January, 10:30pm
£5
Central Hotel
The late night club ensures there is even more music to enjoy after all the gigs are over. Join local and international artists as they make special unbilled appearances or join in one of many sessions happening in the bars.
With food and drink in plentiful supply you can happily keep going into the early hours of the morning whilst witnessing some of the best musical collaborations of the festival.
Master of ceremonies, Gibb Todd returns to present each act on stage and Doris Rougvie hosts The House of Song in a peaceful oasis away from the main stage.
The 15th Celtic Connections festival takes place over 19 days in January and February in 14 venues across Glasgow, Celtic Connections is the UK's premier Celtic music festival, with over 300 concerts, ceilidhs, talks, free events, late night sessions and workshops.
Tickets can be booked:
In person Glasgow Royal Concert Hall
2 Sauchiehall Street
Glasgow, G2 3NY
City Halls and Old Fruitmarket
Candleriggs
Glasgow, G1 1NQ
By phone 0141 353 8000
Online www.celticconnections.com
For further information check www.celticconnections.com.
Author:
World Music Central News Department
World music news from the editors at World Music Central