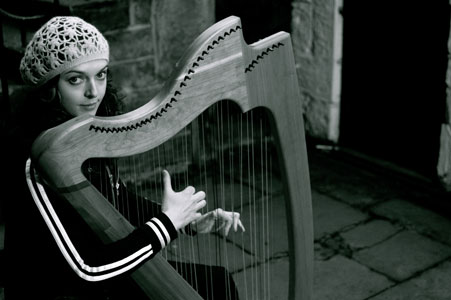 The bagpipe becomes the focus on January 27 at Celtic Connections 2008. The Gordon Duncan Memorial Solo Piping Competition will take place at 1 pm. Tnere will also be a concert by Breton pipe band Bagad Kemper. In addition, there will be a concert by La Banda Europa Pipers. Other headliners include Catriona McKay, Le Vent du Nord, Beoga, Chris Stout, Maggie MacInnes, and american acts Dirk Powell Band and Christine Balfa & Balfa Toujours.
Program:
Public Workshops
Opening Your Voice
Sun 27 January, 11am
£6
Glasgow Royal Concert Hall, Buchanan Suite
The supreme Harriet Buchan will lead you on a wonderful journey to release your voice. Find sweet sounds that you never knew you had. This workshop is not about learning songs – more about discovering your potential and releasing your capabilities through relaxation techniques. Prepare to be surprised and delighted with the voice you find. Loose comfortable clothing is advisable.
come&try
Ukulele
Sun 27 January, 11am
£6
Glasgow Royal Concert Hall, Lomond Foyer
Here is an opportunity to learn the arguably cutest of all stringed instruments. Lots of ukes will be provided but if you found one in your Christmas stocking, bring it along and discover its delights! Graham Gass is a tutor with Glasgow Fiddle Workshop and he will take you through the basics of this fine wee instrument.
Public Workshops
Whistle for Players
Sun 27 January, 11am
£6
Glasgow Royal Concert Hall, Clyde Foyer
Mark Dunlop from Malinky will teach players of the whistle how to extend their range of techniques and repertoire focussing on Scottish tunes. Low whistle players are also welcome to this workshop.
New Voices Series
Catriona McKay
Sun 27 January, 1pm
£10.50
Glasgow Royal Concert Hall, Strathclyde Suite
A member of the leading Shetland band Fiddlers' Bid, Catriona McKay is a fearless contemporary explorer on the Scottish harp, having collaborated with a wide array of folk, jazz, classical and experimental artists, as well as co-designing the new Starfish McKay harp, featuring an alternative tuning pattern, as heard on her recent solo album Starfish.
Her performance today reunites her with four previous or current duo partners, aiming to build on the musical synthesis already created with each one, her fellow adventurers being Fiddlers' Bid colleague Chris Stout (fiddle), electro-acoustic composer Alistair MacDonald (live electronics), Salsa Celtica's Phil Alexander (piano/accordion) and Väsen co-founder Olov Johansson (nyckelharpa).
Sponsored by Sunday Herald
Gordon Duncan Memorial Solo Piping Competition
Sun 27 January, 1pm
£8
Central Hotel
The Perthshire piper Gordon Duncan, who died in December 2005, had a seminal impact on Scottish music and this afternoon's special piping event has been organized in his honor.
Scottish pipers include Roddy MacLeod, Simon McKerrell and Willie McCallum with judges including Ian Duncan and Ian McLellan.
Breton pipers include Xavier Boderiou, Sylvain Hamon and Alexis Meunier with the Breton judging being undertaken by Jakez Pincet and Pierre Gallais. Representing Ireland are Ryan Canning, Alen Tully and Andrew Carlisle with judging from Harry Stevenson and Kenny Stewart. MC for the afternoon will be John Wilson and prizes will be presented by Jock Duncan, Gordon's father.
The Gordon Duncan Trophy has been donated by McCallum Bagpipes, Kilmarnock.
Public Workshops
Opening Your Voice 2
Sun 27 January, 1:30pm
£6
Glasgow Royal Concert Hall, Buchanan Suite
This workshop is designed to explore and develop your voice using an array of extraordinary instruments that Harriet Buchan has collected on her international travels. She will teach you methods to improve the quality of your singing voice and enrich your overall sound. Please note that this workshop is not about learning actual songs but it will help you to feel good about singing.
come&try
Moothie
Sun 27 January, 1:30pm
£6
Glasgow Royal Concert Hall, Lomond Foyer
According to the poet, Gerry Cambridge, the moothie remains one of the most perversely annoying and fascinating instruments around. In this workshop, he will take his students on a voyage of discovery on the diatonic harmonica, ideal for playing the blues. If you have your own instrument in the key of D, you will learn the basics of note bending and other moothie delights. Some moothies will be available for sale.
come&try
Puirt
Sun 27 January, 1:30pm
£6
Glasgow Royal Concert Hall, Clyde Foyer
Alpin Stewart will take his students through the multitude of rhythmic Gaelic songs which are ideal for step dancing or just simply showing off. If you're looking for a party piece, this is the workshop for you. Come and learn some simple puirt a'bheul and be the envy of all your friends. No knowledge of Gaelic is necessary and lots of fun guaranteed.
Danny Kyle's Open Stage hosted by Gibb Todd
Sun 27 January, 5pm
Free
Glasgow Royal Concert Hall, Exhibition Hall
Hosted by Danny Kyle's good friends Gibb Todd and Liz Clark, the Open Stage is a chance to see new musical talent as they try to win a coveted support slot at next year's festival – and all absolutely free!
In partnership with the Evening Times
BBC Radio Scotland Young Traditional Musician of the Year Final 2008
Sun 27 January, 5pm
£12.50
City Halls, Grand Hall
For every previous Radio Scotland Young Traditional Musician of the Year – Gillian Frame, Emily Smith, Anna Massie, James Graham, Stuart Cassells, Shona Mooney and Catriona Watt – winning the competition has been a major springboard to a professional career in music. Tonight's six talented finalists are:
Steven Blake (bagpipes/whistles): Citing Fred Morrison, Martyn Bennett, Finlay MacDonald and Michael McGoldrick among his influences, Steven is a founder member of the new band Flow.
Amy Lord (Scots song): A graduate of the BA Honours in Scottish Music at the RSAMD, Amy won the Women's Traditional Singing cup at the 2006 Auchtermuchty Folk Festival.
James Duncan MacKenzie (bagpipes/flute/whistles): The winner of several junior bagpipe competitons, James has just completed a year's study in traditional music at the University of the Highlands and Islands in Benbecula.
Robert Menzies (accordion/piano): A member of the Danny Award-winning accordion band Koda, Robert recently won a scholarship at to study at the RSAMD, along with the 2007 Highlands and Islands Accordion Masters title.
Ewan Robertson (guitar/song): Having formerly attended the National Centre for Excellence in Traditional Music at Plockton High School, Ewan plays with the Danny Award-winning band Breabach.
Ailie Robertson (clarsach): Ailie's previous accolades include first prize in the London Harp Competition and four Mod Gold Medals. She has studied harp at Limerick University's World Academy of Music and Dance.
Camera Obscura with The Twilight Sad & Shutter
Sun 27 January, 7:30pm
£15
ABC
The last few years have seen Glasgow six-piece Camera Obscura perfecting their own distinctive brand of vintage pop sparkle, offset by darker, moodier undercurrents. The band whose early demos achieved three placings in the late John Peel's Festive Fifty staked their most assertive claim to greatness yet with 2006's Let's Get Out of This Country, hailed by Slant magazine as 'one of the year's best pop albums'.
Formed in 2003, The Twilight Sad began life making extended pieces of music from guitars, bass, drums, theremin, sampled movie clips, old country songs, effects pedals, thumb-pianos and computer games, resulting in majestically atmospheric, multi-layered evocations of heartbreak and longing.
Currently recording their debut album for Fat Cat Records, the band are fast gaining a name for their viscerally intense live shows.
Highland instrumental quartet Shutter, who list Mogwai, Deftones and the Afro Celt Sound System among their influences, build monster riffs into brooding hard-rock soundscapes, laced with soaring melodies.
Le Vent du Nord with Beoga
Sun 27 January, 7:30pm
£12.50
The Classic Grand
In a mere six years since their inception, Québec quartet Le Vent du Nord have captivated audiences everywhere with their irresistible blend of consummate musicianship – on fiddle, accordion, hurdy-gurdy, piano, mandolin, guitar, bass and vocals – and seemingly boundless joie de vivre. Tonight marks the UK launch of their second album, Dans les Airs.
Forged from a ferocious session at the 2002 All-Ireland Fleadh, Antrim-based five-piece Beoga have been hailed as a dynamic new force in Irish music. Buoyantly blending trad-style tunes with jazz, blues, cajun, ragtime and Latin flavours, they too have a new second album, Mischief, which cemented their snowballing reputation with another sweep of rave reviews.
Bagad Kemper "D'Ecosse en Cornouaille"
Sun 27 January, 8pm
£18, £16
Glasgow Royal Concert Hall, Main Auditorium
Brittany's leading pipe band, renowned for their innovative large-scale productions, Bagad Kemper have amazed and delighted Celtic Connections audiences on each of their regular visits since 1994. Building on their memorable encounter with the legendary South Uist piper Fred Morrison at Celtic Connections 2005, their latest extravaganza, D'Ecosse En Cornouaille (From Scotland To Brittany), receives its international première tonight.
At once an exploration and a celebration of the many links between Breton and Scottish music, the show features some 80 musicians in arrangements of traditional and contemporary material from both countries, led by Morrison's famously fiery, thrillingly adventurous piping, alongside Gaelic singing star Julie Fowlis. Bagad Kemper's massed binioux, bombardes and bagpipes square up to the 40-strong Clan Gregor Society Pipe Band, accompanied by Brittany's Bernard Le Dréau (saxophones) and Erwan Volant (guitars/bass).
Chris Stout Quintet with Emily Smith
Sun 27 January, 8pm
£12.50
Glasgow Royal Concert Hall, Strathclyde Suite
A member of Fiddlers' Bid and Salsa Celtica, with a degree in electro-acoustic music and a BBCSSO commission under his belt, Shetland fiddler Chris Stout dislikes pigeonholes. His free-ranging musical vision reaches new heights of expression on his latest album 'Devil's Advocate', featuring tonight's line-up of Fraser Fifield (saxophone), Catriona McKay (clarsach/piano), Malcolm Stitt (guitar) and Neil Harland (double bass).
The exquisite voice and interpretative gifts that saw Emily Smith named Radio Scotland Young Traditional Musician of the Year 2002 are nowadays increasingly aligned with her own award-winning compositions. Accompanied here by her regular band on fiddle, guitar, banjo and bass, she'll be previewing tracks form her upcoming third album.
Opening the show will be 17-year-old Cardross fiddler Ryan Young, winner of a 2007 Danny Kyle Award.
La Banda Europa Pipers
Sun 27 January, 8pm
£12
The National Piping Centre
A feast of international piping featuring seven top exponents from Scotland, Serbia, Slovakia, Galicia and Asturias, originally brought together by Jim Sutherland's La Banda Europa project.
Maggie MacInnes with Hemållt
Sun 27 January, 8pm
£12.50
The Tron Theatre
Award-winning Gaelic singer and clarsach player Maggie MacInnes returns to the festival with her haunting, expressive songs from the island of Barra and beyond.
With a richly textured, snugly configured sound combining fiddle, hurdy-gurdy, mandola, mandolin, melodeon, guitar and vocals, Swedish trio Hemållt interweave elements from both Nordic and Celtic traditions.
Island Tapes with Comas
Sun 27 January, 8pm
£12.50
St Andrew's in the Square
Premiered at Celtic Connections 2006, The Island Tapes is an unforgettable multi-media experience masterminded by the innovative Scottish guitarist David Allison, marrying vintage films of Scottish island life with potently atmospheric live soundscapes.
Renowned for a unique performance method that incorporates real-time recording, looping and layering, Allison is joined once again by Scotland's leading classical guitarist Allan Neave, fingerstyle virtuoso Ian Melrose and Gaelic songstress Alyth McCormack.
The Irish/Breton/Belgian quartet Comas are hot favourites around the European festival circuit and feature the awesome talents of Sylvain Barou (flutes, pipes), Aidan Burke (fiddle) Philip Masure (guitar) and Jackie Moran (percussion).
Songs of Scotland
From a Woman's Point of View hosted by Ishbel MacAskill
Sun 27 January, 8pm
£8.50
Universal
Over the last two years the Songs of Scotland series has looked at different regions of Scotland and the songs that have emerged from these areas.
For the 2008 festival the series looks at different themes that occur in Scots song, mixing Gaelic and Scots, and how they have inspired songwriters and singers throughout generations.
Each of the ten themes will showcase a selection of songs, so each night will see the audience taken on a journey of discovery through different languages, dialects and stories, all linked with one common theme.
Southern Routes featuring Dirk Powell Band and Christine Balfa & Balfa Toujours, plus special guests
Sun 27 January, 8pm
£16
Old Fruitmarket
Family connections – between both the performers themselves, and the musical traditions they represent – are the keynote of this very special collaboration, featuring top contemporary Cajun outfit Balfa Toujours and fiddle-led Appalachian specialists the Dirk Powell Band.
The most immediate link is that of husband and wife Powell, who doubles as accordionist in Balfa Toujours, and its singer/guitarist Christine Balfa, who founded the group in honour of her father, the legendary fiddler Dewey Balfa, following his death in 1992.
Although Cajun and Appalachian music seem to form two highly distinct strands within the US folk tradition, tonight will explore the extensive historical and cultural overlap between them, exemplified by the fact that some of the most famous Cajun dynasties – including the Balfas – originally arrived in Louisiana as English-speakers from North Carolina and Virginia. Both born out of egalitarian frontier communities, each with a deep historical resistance to English domination, these not-so-distant cousins promise a truly harmonious reunion.
Celtic Connections Festival Club hosted by Gibb Todd
Sun 27 January, 10:30pm
£5
Central Hotel
The late night club ensures there is even more music to enjoy after all the gigs are over. Join local and international artists as they make special unbilled appearances or join in one of many sessions happening in the bars.
With food and drink in plentiful supply you can happily keep going into the early hours of the morning whilst witnessing some of the best musical collaborations of the festival.
Master of ceremonies, Gibb Todd returns to present each act on stage and Doris Rougvie hosts The House of Song in a peaceful oasis away from the main stage.
The 15th Celtic Connections festival takes place over 19 days in January and February in 14 venues across Glasgow, Celtic Connections is the UK's premier Celtic music festival, with over 300 concerts, ceilidhs, talks, free events, late night sessions and workshops.
Tickets can be booked:
In person Glasgow Royal Concert Hall
2 Sauchiehall Street
Glasgow, G2 3NY
City Halls and Old Fruitmarket
Candleriggs
Glasgow, G1 1NQ
By phone 0141 353 8000
Online www.celticconnections.com
Author:
World Music Central News Department
World music news from the editors at World Music Central