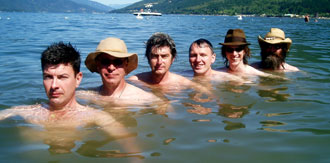 Some of the leading Scottish bands, Shooglenifty, Moving Hearts, Bodega, make their appearance at Celtic Connections 2008 on January 24. The festival will also present the spectacular 11-piece Romanian brass ensemble Fanfare Ciocarlia and many more top of the line acts.
Complete program:
Iain Anderson In Conversation
George Parsonage, Alex Gray & John MacKay
Thu 24 January, 12:30pm
£3.50
Glasgow Royal Concert Hall, Exhibition Hall
BBC Radio Scotland's Iain Anderson hosts an eclectic mix of local figures as well as musicians performing at the festival for a lunch time blether.
Danny Kyle's Open Stage hosted by Gibb Todd
Thu 24 January, 5pm
Free
Glasgow Royal Concert Hall, Exhibition Hall
Hosted by Danny Kyle's good friends Gibb Todd and Liz Clark, the Open Stage is a chance to see new musical talent as they try to win a coveted support slot at next year's festival – and all absolutely free!
In partnership with the Evening Times
Moving Hearts with Bodega
Thu 24 January, 7:30pm
£20, £18
Glasgow Royal Concert Hall, Main Auditorium
Seismic, seminal, visionary, defining – Moving Hearts' impact on contemporary Celtic music can hardly be overstated. Originally blazing their brief but brilliant trail from 1981-84, they were the first to open up traditional Irish sounds to the bracing influences of rock, funk and jazz, paving the way for such subsequent fusioneers as Capercaillie, Sharon Shannon and Mike McGoldrick.
As announced by their triumphant reunion gigs at Dublin's Vicar Street a year ago, and a superb set at last summer's Hebridean Celtic Festival, the band are firing gloriously on all cylinders once again, in an all-instrumental line-up featuring Dónal Lunny (bouzouki), Davy Spillane (uilleann pipes/whistles), Keith Donald (saxophones) Eoghan O'Neill (bass), Noel Eccles (percussion), Anto Drennan (guitar), Graham Henderson (keyboards) and Liam Bradley (drums).
Having met while attending the National Centre for Excellence in Traditional Music, at Plockton High School, the Highland five-piece Bodega – winners of the BBC Young Folk Award 2005/6 – are one of Scotland's most exciting traditional bands. Mixing up bagpipes, fiddle, clarsach, guitar and djembe with Norrie MacIver's powerful singing, in English and Gaelic, their sound is as fresh as it's accomplished, matching youthful boldness with precocious maturity.
Showcase Special with Shooglenifty, Dàimh, Stereocanto, The Anna Massie Band & Emily Smith
Thu 24 January, 7:30pm
£15
ABC
A bumper-explosive night of top-Scottish talent, featuring five contrasting acts at the forefront of the current Celtic scene. Shooglenifty lead the folk-fusion pack, cooking up tunes borrowed from a wide swathe of world traditions with influences as diverse as prog rock and urban breakbeats.
Highland sextet Dàimh alternate blistering pipes 'n' fiddle-led instrumentals with spellbinding Gaelic songs, while Stereocanto is a new jazz/folk combo led by the mighty musical mind of Fraser Fifield, featuring his saxophone, bagpipes and whistles alongside fiddle, vocals, drums, bass and guitar.
Completing the line-up will be The Anna Massie Band and Emily Smith who have established themselves as some of Scotland's finest young talent.
The Sounds of New Scotland: Bricolage, Wake the President, Zoey Van Goey & Santa Dog
Thu 24 January, 7:30pm
£12.50
The Classic Grand
While wearing their debt to Glasgow's Postcard scene proudly in their collective sleeve, Bricolage add their own post-Franz twists with sneaky dance grooves, feelgood tunes and witty lyrics.
Wake The President's local influences range from the acoustic whimsy of early Belle and Sebastian to the slam and snarl of Arab Strap.
Having assembled rather accidentally in Glasgow, Zoey Van Goey's members hail from Canada, Ireland, and England. Their recently released debut single, Foxtrot Vandals was produced by Stuart Murdoch of Belle and Sebastian.
Completing the line-up will be Santa Dog, known for their sparkly, summer-soaked pop with chiming guitars and a sinister perimeter.
Fred Morrison with Djärv
Thu 24 January, 8pm
£12.50
Glasgow Royal Concert Hall, Strathclyde Suite
Today's supreme heir to the Gaelic piping tradition of his South Uist home, Fred Morrison is also a thoroughly 21st-century musician. One of the few pipers successfully to straddle the formal competition circuit and the contemporary folk scene, Morrison's astounding technique and inspired improvisations – on Highland, Lowland and uilleann pipes, as well as whistles – have won rapturous international acclaim.
Djärv are a new Swedish folk/jazz five-piece whose influences include Väsen, Ale Möller, Groupa, Pat Metheny and Jan Garbarek, with a line-up of fiddle, flute, soprano sax, guitar, nyckelharpa, bass, percussion and vocals.
Margaret Stewart with Róisín Elsafty
Thu 24 January, 8pm
£12
The National Piping Centre
From Lewis comes the exceptional sean-nós Gaelic singer, Margaret Stewart, who tonight will launch her new CD alongside special guests. Opening the evening will be Connemara's Róisín Elsafty, also renowned for performing in the ancient melismatic style.
Kaplin, Kane & Welch with Lissa Schneckenburger
Thu 24 January, 8pm
£12.50
The Tron Theatre
Americana singer-songwriters Kieran Kane and Kevin Welch formed their trio with renowned multi-instrumentalist Fats Kaplin in 2003 to create an Americana super-group that makes music with roots parameters, but in the spontaneity and vibe of a jazz recording. Tonight they are joined by Kane's son Lucas on drums adding further rhythmic sinew to their gutsy yet lyrical sound.
Maine-born Lissa Schneckenburger's dulcet voice and vibrant, dance-driven fiddle work have made her a leading exponent of her native New England traditions. She appears tonight with her band: Keith Murphy (guitar) Corey DiMario (double bass) and Stefan Amidon (percussion).
Duncan Chisholm's Kin with Lori Watson & Rule of Three
Thu 24 January, 8pm
£12.50
St Andrew's in the Square
Premiered at the 2007 Blas festival, Kin is a multi-media meditation on family, landscape and culture, created by fiddler Duncan Chisholm. Borders singer/fiddler Lori Watson leads her talented young trio, also featuring Innes Watson and Fiona Young.
Songs of Scotland
Heroes and Heroines hosted by Doris Rougvie
Thu 24 January, 8pm
£8.50
Universal
Over the last two years the Songs of Scotland series has looked at different regions of Scotland and the songs that have emerged from these areas.
For the 2008 festival the series looks at different themes that occur in Scots song, mixing Gaelic and Scots, and how they have inspired songwriters and singers throughout generations.
Each of the ten themes will showcase a selection of songs, so each night will see the audience taken on a journey of discovery through different languages, dialects and stories, all linked with one common theme.
Fanfare Ciocarlia with Nuala Kennedy's New Shoes
Thu 24 January, 8pm
£16
Old Fruitmarket
Currently one of the hottest gypsy bands on the planet, the 11-piece Romanian brass ensemble Fanfare Ciocarlia won a Radio 3 World Music Award in 2006, and were featured on the soundtrack to the hit movie Borat, performing their unique version of Steppenwolf's 'Born to Be Wild'.
Heirs to a tradition dating back to Ottoman army bands, which often featured gypsy brass players, they whip up a dizzying whirlwind of tunes and rhythms from Romania, Turkey, Bulgaria, Macedonia and beyond, together with Klezmer, rock and hip-hop influences, bringing the exuberant soul and spirit of a traditional village wedding to the world's most illustrious stages.
Acclaimed Irish flautist and singer Nuala Kennedy is joined by special guests Cathal McConnell and Troy MacGillivray. She returns to Celtic Connections with her band The New Shoes after her highly successful New Voices commission last year – which was heralded as 'breathtaking' and a 'triumph' by Scotland's national press.
Boston Tea Party
Alastair Moock, Kris Delmhorst, Tim Gearan and Rose Polenzani
Thu 24 January, 8pm
£12.50
The Tall Ship
One of America's most famous incidents saw colonists, disdaining British taxes, destroy crates of tea aboard ships in Boston Harbour in 1773. Two centuries on, Boston was famous for a music scene that developed in its tea and coffee houses. Joan Baez, Taj Mahal, Tom Rush and Bonnie Raitt are just some who served apprenticeships on the local scene before gaining international recognition and today, Boston remains as vibrant as ever.
This Boston Tea Party, like the original, held aboard a sailing ship, features four names who are major creative forces among the current crop of leading Massachusetts singer-songwriters.
Alastair Moock, Kris Delmhorst, Tim Gearan and Rose Polenzani present a program that will show why leading radio presenters both here and in the USA are describing them as "wonderful", "outstanding" and "must-see", performing together over three nights in-the-round, sharing stories and collaborating on some of the finest music of our times.
BBC Radio Scotland 92-95FM & 810MW Live Radio Broadcasts
Travelling Folk
Thu 24 January, 8pm
Free but ticketed
BBC Scotland, Pacific Quay
Archie Fisher presents a special live show featuring some of the best music from this year's festival, from BBC Scotland's new headquarters at Pacific Quay. Live on BBC Radio Scotland.
Celtic Connections Festival Club hosted by Gibb Todd
Thu 24 January, 10:30pm
£5
Central Hotel
The late night club ensures there is even more music to enjoy after all the gigs are over. Join local and international artists as they make special unbilled appearances or join in one of many sessions happening in the bars.
With food and drink in plentiful supply you can happily keep going into the early hours of the morning whilst witnessing some of the best musical collaborations of the festival.
Master of ceremonies, Gibb Todd returns to present each act on stage and Doris Rougvie hosts The House of Song in a peaceful oasis away from the main stage.
The 15th Celtic Connections festival takes place over 19 days in January and February in 14 venues across Glasgow, Celtic Connections is the UK's premier Celtic music festival, with over 300 concerts, ceilidhs, talks, free events, late night sessions and workshops.
Tickets can be booked:
In person Glasgow Royal Concert Hall
2 Sauchiehall Street
Glasgow, G2 3NY
City Halls and Old Fruitmarket
Candleriggs
Glasgow, G1 1NQ
By phone 0141 353 8000
Online www.celticconnections.com
For further information  check www.celticconnections.com.
Author:
World Music Central News Department
World music news from the editors at World Music Central