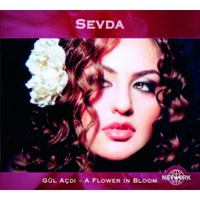 Sevda
Gul Acdi 'A Flower in Bloom' (Network Medien 495119, 2007)
I'm not sure how many superstars there are in or from Azerbaijan (which borders the Caspian Sea), but apparently Sevda Alekperzadeh is one of them. This disc shows why: the girl's got an impressive voice, gripping in both plaintive, solitary moments and when lashing forth with an assuredness that's equally sensual and joyous.
She grew up listening to Azerbaijan's classical mugam music, most evident in the traditional pieces here, and obviously gleaned from jazz and Afro-Cuban music as well. The disc is nicely paced, featuring some songs that would fill a dance floor and some that would quiet one down.
The note-caressing strength with which Sevda handles ballads ("Ala Goz," "Alvida") and traditional pieces ("Mahur") could carry an entire album, but when grooving to a full-band sound (as on "Goy-Gol" and "Lachin") she shows just how high she can vocally fly.
I'm not familiar with Azerbaijani music in its purest form though there's no doubt a fair measure of it here, along with a sampling of how good it sounds with some outside influences brought in. Sevda's got the voice to bring it all together splendidly.
Buy Gul Acdi 'A Flower in Bloom'
Author:
Tom Orr
Tom Orr is a California-based writer whose talent and mental stability are of an equally questionable nature. His hobbies include ignoring trends, striking dramatic poses in front of his ever-tolerant wife and watching helplessly as his kids surpass him in all desirable traits.