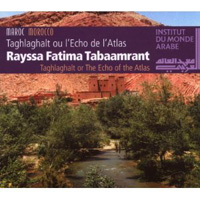 Rayssa Fatima Tabaamrant
Taghlaghalt or the Echo of the Atlas (Institut Du Monde Arabe 321.044, 2006)
Morocco's Atlas Mountain region is, among other things, home to the Berber musical tradition known as rwais, which is also the word for the singers who specialize in sung poetry of a personal, cultural or political nature. Because of their often itinerant ways, rwais are seldom recorded. So this live disc by one of the most powerful Berber singers of this under-represented genre- and a woman at that -is a real treasure.
Backed by monochord fiddle, lutes, percussion and male response vocals, Rayssa Fatima Tabaamrant looses her raw, beautiful and unfailingly attention-grabbing wail on a set of songs that make no concession to modern trappings and are stronger for it.
The words and music are Tabaamrant's own, potently combining griot-like observations with declarations on the need to preserve the integrity of rwais artistry. She tears into the songs with a poet's passion and a feminist's zeal, crowning her accompanist's combination of finesse and fury.
Particularly striking are the stop-and-start melody of the lengthy "Ssllam," which both greets the audience and invokes various Muslim saints, and "Ait L'aql, where Tabaamrant intones "may God put melodies within my reach." The Almighty appears to have obliged, and this result is this wonderful CD.
Buy Taghlaghalt or the Echo of the Atlas
Author:
Tom Orr
Tom Orr is a California-based writer whose talent and mental stability are of an equally questionable nature. His hobbies include ignoring trends, striking dramatic poses in front of his ever-tolerant wife and watching helplessly as his kids surpass him in all desirable traits.