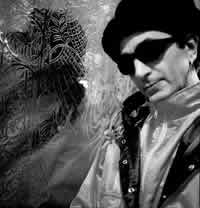 On Friday, January 11th, GlobeSonic Entertainment and Dawn Elder Management will present an eclectic evening of Middle Eastern, North African and South Asian sounds featuring Lebanese Bassam Saba a world-renowned composer, Multi instrumentalist and his chamber music ensemble of all star musicians, Algerian Cheb i Sabbah, Moroccan Gnawa master Hassan Hakmoun, Pakistani folk vocalist Riffat Sultana, and Afghani Master tabla musician Salar Nader. With the showcase being held in the newly renovated Sullivan Hall (formerly the Lion's Den), New York's East Village will be culturally and sonically transformed by some of the most extraordinary global musicians around today.
The virtuoso flute and ney (Arabic wooden flute) of composer, master multi instrumentalist Bassam Saba has been heard in recordings and performances worldwide by Alicia Keys, Yo-Yo Ma, Fairuz, Simon Shaheen, Khaled & Santana, Silk Road Project, Marcel Khalifé, Kadim Al Sahir (Kazem), Quincy Jones, and many other giants of contemporary world music. Now, at last, this brilliant multi-instrumentalist and composer emerges as leader of his own ensemble. The Bassam Saba Ensemble is a sextet of musicians carefully selected to traverse the musical territory of Bassam's 30-year career: Arabic and Western classical, jazz, pop, and experimental music.
Bassam Saba & his Ensemble perform a unique repertoire of Bassam's recent compositions. "Dance to My Father" draws on Russian folk melodies that he and his father both adore. "Le Rayon Vert (The Green Ray)" is a dramatic, 25-minute, impressionist composition, portraying the shift from day to night as a struggle of radiance, survival, submission, and ultimately the peace of night. "Windmill of the North Shore" again draws on Bassam's childhood in the north of Lebanon with melodies created to evoke silvery light and salty air. Bassam plays the long-necked buzuk in the hijazkar scale—" very Arabic, and beautifully joyful." One of the most original forces in today's Arabic music finds his own voice at last.
Algerian Cheb i Sabbah started spinning world music records in Paris in 1965 and never looked back. Today he resides in San Francisco and is the namesake behind hugely successful Indian and Moroccan electronica records on Six Degrees Records. His DJ sets have been known to send dancers into ecstatic fits of rapture. From a man whose mind may hold the most expansive catalog of international sounds of anyone, this is hardly surprising.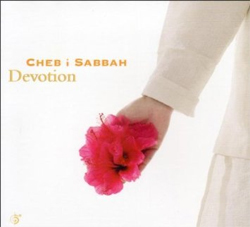 On January 29, 2008, Cheb i Sabbah releases his new album and returns to the Indian subcontinent for Devotion, his seventh album on Six Degrees Records. Hundreds of artists in the world music genre, or for that matter any genre, have come and gone like bottle rockets, but Cheb i Sabbah's light keeps burning and it is his bhakti (devotion) to the spiritual essence of music, and to truth and humanity, that is responsible for his longevity.
Devotion has been in the making for at least nine years since Cheb i Sabbah started visiting India to record his first release. His first visit to the Mother land goes back to 1970. He has been to the country several times in the interim, and with each journey he has excavated an aspect of its culture and spirituality with respect and taste to produce sublime albums like Shri Durga (1999) and Krishna Lila (2002). Both are considered gold standards by classical music purists and casual listeners alike, and remixes from these projects are club staples around the world. In the past, Cheb i Sabbah produced trippy and mellifluous prayers to the Hindu goddess Durga and sung beatific stories of Lord Krishna, but with this fantastic new record he gets to the center of the universe itself and investigates the nature of devotion. Cheb i Sabbah will perform with South Asian master of aabla Salar Nader from Afghanistan. Cheb i Sabbah's set will also feature several special guests from his upcoming recording.
Riffat Sultana broke many boundaries by singing qawwali in a male-dominated Pakistani culture. Part of a 500-year familial lineage—her father is the legendary Ustad Salamat Ali Khan—one instantly recognizes the emotional intensity of Sultana's plight, as well as victory on stages worldwide. She was the lead vocalist on the groundbreaking 2001 album by Shabaz, alongside brother Sukhawat, and has performed on Cheb i Sabbah's albums. Her intimate live performance will certainly prove why she's performed alongside artists such as Ben Harper, Jeff Beck and Quincy Jones.
Salar Nader's Guru is world renowned master of the tabla maestros Ustad Zakir Hussain and Ustad Salamat Ali Khan. He has played with the likes Ustad Mawaash, notable Afghan vocalist, Fareed Haque Group, Riffat Sultana, Cheb i Sabbah and many notable artists from the Sub continent. For this special showcase Nader will perform with master rebab player Homayun Sakhi in a traditional Afghan musical style. Nader will also perform with Riffat Sultana and Cheb i Sabbah. Nader's showmanship and versatility is why is growing to be one of the top musician and composers in his field.
With a history of street performances in Marrakesh starting at age four, Hassan Hakmoun has spent his life devoted to the music and spirituality of Morocco. He is considered one of the world's great gnawa trance masters, evidenced by anyone that has ever seen him perform. Whether seated with his sintir, surrounded by percussion in a traditional ceremony, or launching a sonic assault with his rock-gnawa fusion in front of tens of thousands of fans, Hakmoun is a charged and energetic performer unlike any other. Having recorded on Peter Gabriel's Real World Records, Alula Records, Music of the World and Triloka, Hakmoun promises to entrance the audience, as is customary whenever he takes the microphone.
Special APAP performance / Friday, January 11, 2008 at Sullivan Hall /
214 Sullivan St (Bleecker – West 3rd St), New York City.
Tickets are $20 advance/$25 day of, and free with APAP badges. / Doors @ 8 pm
Set Times: 8:15 Salar Nader-8:30 pm – Riffat Sultana, 9:30 pm – Bassam Saba, 10:30 pm – Hassan Hakmoun, 11:30 pm – Cheb i Sabbah
Author:
World Music Central News Department
World music news from the editors at World Music Central