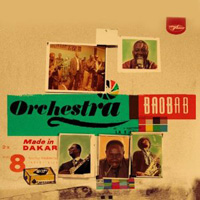 Orchestra Baobab
Made In Dakar (World Circuit Records, 2007)
Ask any MBA record executive why a particular song or CD is good and he or she will probably go into great detail about marketplace, demographics and all that. And he or she would be wrong, of course. Really good music is good, and I'm borrowing a term wine lovers use, because it has legs – the music gets up and romps around the room all on its own and takes the listener with it. And nothing could romp around the room with raucous delight quite the same way Orchestra Baobab can with Made In Dakar. The piquant blending of Afro-Cuban, Portuguese Creole, Congolese rumba, high life, calypso and good old fashion soul served up on a Senegalese base makes Made In Dakar a mélange of pure goodness.
Orchestra Baobab was formed in 1970 and were soon recording hit after hit, creating their signature sound from Dakar's cultural melting pot of European, Afro-Cuban, Islamic and African influences. They earned their chops and their name as the house band for Dakar's hotspot and ultimate nightclub, the Baobab. As time went on and the musical landscape shifted, Orchestra Baobab found its influence waning with younger musicians like Youssou N'Dour stealing the limelight and disbanded in 1985. In 2001, the band reformed and released Specialist in All Styles, renewing interest and capturing new listeners, not to mention earning a couple of BBC Radio 3 Awards and a Grammy nomination.
Orchestra Baobab's Made In Dakar is currently comprised of vocalists and percussionists Balla Sidibe, Rudy Gomis and Ndiouga Dieng, vocalists Medoune Diallo and Assane Mboup, leader and guitarist extraordinaire Barthélemy Attisso, rhythm guitarist Latifi Genjoloun, sax players Issa Cissoko and Thierno Koite, and bassist Charlie Ndiaye and percussionist Mountaga Koite. Thio Mbaye is the wild man on the sabar drums and Assane Thaiam plays the talking drums. Let me not forget Ibou Konate on trumpet, Sanou Diouf on tenor sax, rhythm guitarist Baba Nabe and trombonist Jesus "Aguaje" Ramos. Oh, and Youssou N'Dour showed up at Xippi's studios for a guest appearance on "Nijaay."
Made In Dakar is captivating from the start with the charged vocals on opening track "Pape Ndiaye," and doesn't let up with Attisso's guitar work against N'Dour's signature vocals on "Nijaay." The sound is bright and engaging, but with longtime members of the band,Sidibe, Gomis and Attisso, it couldn't be anything but fabulous. The salsa heavy "Ami Kita Bay" and the Cuban guajira rhythm of "Cabral" are intoxicating. The sweet sounds of "Aline" swing with its Congolese rumba sound, but it's the rippling guitar and driving sabar drums that make "Ndéleng Ndéleng" a smash. My personal favorites are the calypso breeze that wafts in on "Birkowa," and the swank sound on "Collette," that's got enough funk guitar, slick trumpet and jazzy soul to soothe even the nervous.
The richness of the Orchestra Baobab sound and the complexities of their layered compositions on Made In Dakar is spontaneous, evocative and legs worthy of a good hip shimmy trip around the room.
Author:
TJ Nelson
TJ Nelson is a regular CD reviewer and editor at World Music Central. She is also a fiction writer. Check out her latest book, Chasing Athena's Shadow.
Set in Pineboro, North Carolina, Chasing Athena's Shadow follows the adventures of Grace, an adult literacy teacher, as she seeks to solve a long forgotten family mystery. Her charmingly dysfunctional family is of little help in her quest. Along with her best friends, an attractive Mexican teacher and an amiable gay chef, Grace must find the one fading memory that holds the key to why Grace's great-grandmother, Athena, shot her husband on the courthouse steps in 1931.
Traversing the line between the Old South and New South, Grace will have to dig into the past to uncover Athena's true crime.