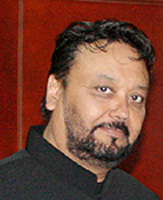 Australian singing legend Alston Koch who was born in Sri Lanka has attracted worldwide interest with his tribute song to the world's greatest bowler in the history of cricket, Muttiah Muralitharan. 'Murali' is now the world's leading wicket taker, he swept past Australian spin bowler Shane Warne's record recently when Sri Lanka played England in a 3 test match series on the island.

In London, Muttiah Muralitharan received a standing ovation when his name was mentioned at the 'We, Children of the Pearl' cultural show held at Imperial College on 15th December 2007. Murali was hailed as a wonderful example of diversity in action in Sri Lanka.

Alston Koch has recorded the only tribute song officially endorsed by Murali himself.Alston told World Music Central that he has also released a music video to go with his 'Murali' song. It has been played by radio and TV stations in three continents and been even mentioned on the BBC's 'Test Match Special.'He is the only Sri Lankan-born singer song-writer to be signed to an international record label and have success in Australia, Asia and Europe with Platinum & Gold record status.

Acclaimed as Asia's King of Pop in the late 70's when his hit song 'Disco lady' stood on the top of the charts for more than 8 weeks in three continents, he was also commissioned to write and perform the album for the America's Cup by the Australian syndicate 'THE KOOKABURRAS' who defended the cup for Australia.

Alston Koch's profile with a string of hits is on You Tube: www.youtube.com/alstonkoch.

The song .'Murali', already acclaimed by music critics as a classic, is being launched with the support of cricket website Cricinfo, the online home of cricket, and the Murali CD can be purchased for $6 dollars via Sri Lanka Cricket's official online shop – www.srilankacricketshop.com.

Part of the proceeds from the sale of the CD and DVD will be donated to the 'Foundation of Goodness', a Sri Lankan Charity run by Kushil Gunesekera, Muralitharan's manager and other Sri Lankan cricketers such as the legendary bowler Chaminda Vaas.

The song was recorded in Melbourne, Australia and produced by Jarrod Gilson who believes it is one of the best tribute songs written and remarks that he now understands why triple Grammy award winner Alicia Keys introduced the singer Alston Koch to the World at a recent MTV awards ceremony as 'a legend and a superstar' as he is a dedicated and disciplined perfectionist.
The song 'Murali' has three versions and one is an authentic Australasian Dance Mix, featuring some of the best Aboriginal didgeridoo players and musical instruments and ancient tribal chants from India to Afghanistan…Sri Lanka to Australia and cricket crowds from all over the world.
World Music Central readers can see Alston Koch's stunning tribute to World Champion Bowler, Muttiah Muralitharan by accessing his website: http://www.alstonkoch.com.