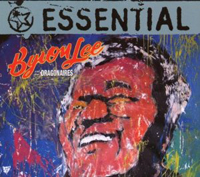 Released this month, Essential: Byron Lee and The Dragonaires celebrates the 50th Anniversary of the legendary artist and band leader who helped pilot Caribbean music onto the world stage. The 2-disc collection features over 20 of the bands greatest hits including "Tiney Winey", "Give Me Soca", "Bam Bam" and the perennial classic "Jamaica Ska".

Out via VP Records' vintage imprint 17 North Parade, Essential chronicles Byron Lee and The Dragonaires historic musical voyage through the cultural landscape of the Caribbean. From merengue and bolero to ska and rocksteady, reggae, soca and calypso, they have effortlessly done it all and captured generations of fans along the way. Featuring a hand painted cover by French artist Jean Francois, the wonderfully packaged CD/ DVD also includes live footage from the 2006 Air Jamaica Jazz and Blues Festival, and a very candid video interview with Byron Lee titled "The Dragon Speaks". Complete with extensive liner notes written by- distinguished Jamaican record producer and Byron Lee comrade- Clive Donald Davidson, the anthology recounts a storied musical history dating back to the late 1950's. Also included are rare photos of the band throughout the years.

Buy Essential: Byron Lee and The Dragonaires.
Author:
World Music Central News Department
World music news from the editors at World Music Central