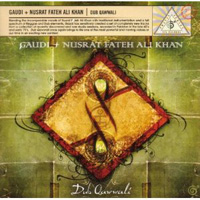 Gaudi + Nusrat Fateh Ali Khan
Dub Qawwali (Six Degrees 657036 1137-2, 2007)
Pakistan's late Nusrat Fateh Ali Khan may have specialized in the ecstasy-inducing Sufi devotional style known as qawwali, but he had one of those incredible voices that also gave a supernatural lift to movie soundtracks, such albums as his classic ustt Mustt and his collaborations with Peter Gabriel, Michael Brook and Eddie Vedder. There's no telling what sort of further heights he might have scaled if not for his 1997 death. Still, his legacy as a master of music and messenger of peace and love is assured.
When I first heard that an album of '60s and '70s Khan vocal tracks set to dub reggae rhythms was being released, I figured the results would be pretty good at least. But oh my, was I totally unprepared for how thoroughly this disc kept me entranced. London-based producer/composer/musician Gaudi (a new name to me, I must confess) gained access to rare and unreleased vocals recorded when Khan was still largely a Pakistani sensation, and the ethereal, echoing dub arrangements he's crafted around them are both seamless and flawless.
The vocals fit the musical backing so snugly you'd swear that a resurrected Khan walked into the studio and laid it all down in person. A blend of real and programmed sounds pulses away, with a bass and drums framework as solid as any in reggae supporting heavenly strings, accented off beats (naturally), rich techno swells and melodic hooks that beautify Khan's celestial singing even more.
Dub Qawwali is a brilliantly realized combination of east and west, of spiritually-rooted musical genres in perfect unity and of an idea brought to perfectly fitting reality. If only all world music fusions worked this well. One of 2007's best, to be sure.
Buy Dub Qawwali
Author:
Tom Orr
Tom Orr is a California-based writer whose talent and mental stability are of an equally questionable nature. His hobbies include ignoring trends, striking dramatic poses in front of his ever-tolerant wife and watching helplessly as his kids surpass him in all desirable traits.