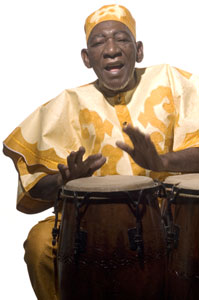 The current episode of "Iconoclasts" on the Sundance Chanel features the innovators Wynton Marsalis and New Orleans chef John Besh discussing their passions and creative work. The broadcast also highlights "Congo Square", the two hour composition by Marsalis and Ghanaian-American drummer Yacub Addy which honors the contribution of Congo Square (in New Orleans) to American music, and includes footage of rehearsals, the premiere in New Orleans in April 06, and a June 07 performance at the Montreal Jazz Festival with pre and post show coverage.Broadcasts will play on the Sundance Channel on:
Saturday November 24 at 2PM
Sunday November 25 at 11AM
Monday November 26 at 11PM
Wednesday November 28 at Midnight
Thursday November 29 at 9PM
Sunday December 2 at 7PM
Yacub Addy founded and leads the Ghanaian ensemble Odadaa!, which performs "Congo Square" with Jazz at Lincoln Center Orchestra. Addy also teaches West African Drumming in the Music Department at Skidmore College in Saratoga Springs, New York.