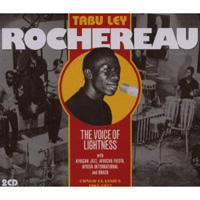 Tabu Ley Rochereau
The Voice of Lightness (Stern's Africa STCD3027-28, 2007)
To call Congolese vocalist Tabu Ley Rochereau a legend doesn't begin to cover it. He is to Congolese singers what Franco was to Congolese guitarists: an icon, an institution, a trailblazer, a standard-setter and so much more. This double CD set only covers the years 1961 to 1977 but clarifies the degree to which Rochereau impacted rumba, rumba's evolution into soukous and the esteemed place those styles occupy among the key genres of African and global music.
If all this seems like nothing but mindless gushing, well, listen to the music on these discs and see if you don't agree. Sure, you can read in the accompanying illustrated booklet about the man's forays into politics (his main focus for the last decade) and the business side of the music, but listening is believing. It's no accident that Rochereau sang with the greatest bands of his time (first as a hired hand and soon as head honcho).
His voice had the lilt that perfectly decorated the Afro-Latin rhythms of rumba, plus the intimacy to carry subject matter ranging from love and celebration to satire, African pride and one's own destiny.
He made his recording debut while still a teenager, and the earliest tracks here ring with a youthful suppleness and hint at Rochereau's fairly rapid emergence as not only a skilled singer but an equally and increasingly adept composer, arranger and bandleader.
Yet as much as this collection focuses on Rochereau's greatness, the way he complimented and was complimented by others comes to light as well. He worked at various career stages alongside some of the best in the business, including saxophonists Manu Dibango and Empompo Loway, singer Sam Mangwana, such guitarists as Dr. Nico, Dino Vangu and Bopol Mansiamina and many more. You see, he was a great collaborator as well, even with musicians who were sometimes his rivals. He had a great ear for what he wanted and the means to get it.
The progression of music on these CDs, not surprisingly, parallels the direction that Congolese music as a whole took in the '60s and '70s. The sounds get deeper and increasingly sophisticated, larger or leaner in scope with the coming and going of trends. And again, particularly on the second disc which features Rochereau firmly in charge of his bands Afrisa International and Onanza, it's that ever-adaptable voice which thrills unceasingly. Because of this collection's 1977 cut-off point, hope is held out for an additional volume or two. There's a lot more to Rochereau's story, but the first part of it is told beautifully here.
Author:
Tom Orr
Tom Orr is a California-based writer whose talent and mental stability are of an equally questionable nature. His hobbies include ignoring trends, striking dramatic poses in front of his ever-tolerant wife and watching helplessly as his kids surpass him in all desirable traits.