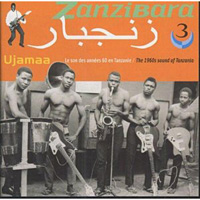 Zanzibara, Vol. 3 – Ujamaa: The 1960s Sound of Tanzania (Buda Musique 860142, 2007)
Zanzibara, Vol. 4 – Bi Kidude: The Diva of Zanzibari Music (Buda Musique 860141, 2006)
It's too early to tell if Buda Musique's Zanzibara series will ultimately have the same scope and impact as their incredible Ethiopiques series. The thus-far four Zanzibara installments sure have been chock full of great past and present music from Africa's southeastern Swahili coast, though.
Curiously (perhaps because it deals mainly with the same taarab style as Volumes 1 and 2), Zanzibara, Vol. 4 was released before Zanzibara, Vol. 3. It features the voice of Bi Kidude, a woman of advanced age (by all accounts she's in her mid-80s at least) who sings in a bluesy, rough-around-the-edges wail that contrasts sharply and elegantly with the Arabic-influenced backing of qanun (zither), 'ud (lute), nai (flute), strings, accordion, percussion, guitar, bass, keyboard and chorus vocals that give taarab music its lushness.
Kidude (who's been in the music business since the 1940s and works as a botanical healer as well) is paired here with a number of backup groups of varying sizes on sessions dating from 1988 to 2006. The accompaniments are thus nicely varied in tone and tempo, some emphasizing the sweetness of strings, others the tartness of the plucked instruments and percussion.
Kidude's wise-elder vocals suit every occasion, even material such as "Kijiti," a vintage Zanzibari ballad of a young girl's rape and murder, and "Msondo," which refers to a ribald style of song presented here as a 14-minute drums-and-voices romp concerning sexual matters. The old gal still has a lot to say, and her voice of reason combines with unfailingly magnificent musical support to make this disc as lovely a gift as the flower Kidude offers on its cover photo. (One of her medicinal plants, perhaps?)
Zanzibara, Vol. 3 moves away from the coastal areas and into Tanzania, where state-sponsored bands flourished in the 1968-to-1973 time period covered by the songs. (The title Ujamaa refers to a particular type of government cooperative.) Style-wise, it's light years away from taarab.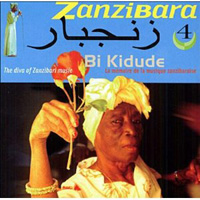 Though every band represented on this set has "jazz" in their name (Nuta Jazz Band, Atomic Jazz Band, Morogoro Jazz Band, etc.), the beautifully swaying music is clearly an East African take on Congolese rumba. The Latin undercurrent of the Congolese model is a bit more muted, but the chiming guitars, oozing sax riffs and easygoing vocals employed by these groups work the same magic as their more Central African counterparts.
In Tanzania this was simply called muziki wa dansi- "dance music" -and it no doubt served its intended purpose. Though Tanzania may have taken cues about music making and the music business from neighboring Congo (and to some extent Kenya) back in the day, distinctions become clear as the album charms its way along. Listen, for example, to the way the way most of the singing is done by grouped rather than solo voices or the generally less prominent role percussion plays, and the deliciously subtle differences between the majority of the songs and the more overtly Congolese-sounding ones like Nuta's "Dada Nihurumie" seep in.
You can classify this brilliant gem of a CD as simple dance music if you like, so long as you keep your ears attuned also.
Buy Zanzibara, Vol. 3 and Zanzibara, Vol. 4.
Author:
Tom Orr
Tom Orr is a California-based writer whose talent and mental stability are of an equally questionable nature. His hobbies include ignoring trends, striking dramatic poses in front of his ever-tolerant wife and watching helplessly as his kids surpass him in all desirable traits.