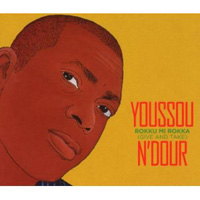 New York (NY), USA – Senegalese star Youssou N'Dourhas a new album titled Rokku Mi Rokka (Give And Take) . The album follows N'Dour's 2004 Grammy Award-winning Egypt, a celebration of Senegal's Muslim mystical culture of Sufism that featured traditional musicians from Dakar and Cairo. On Rokku Mi Rokka, N'Dour continues his adventures in traditional music.
"The music and inspiration on this album are from the north, from the desert, from parts of the country that border on Mali and Mauritania. People from those countries will know and understand this music as well as people who come from the centre of Senegal," N'Dour says.
"Some people might think Senegalese music means mbalax, which is Wolof, the most important language in the country, everybody speaks it. But all my life I have been saying that this is not the only music we have in Senegal, we have a wide range of sounds and rhythms. When it came to writing the songs for this album, I wanted to use different sounds.
"Sometimes you will hear a little blues on the album, a little reggae, a bit of Cuba. In Africa, we get excited when we hear these rhythms, because we feel them, they are ours, but they left Africa with the slaves a long time ago. Rokku Mi Rokka means 'You give me something, I give you something' and that's the message of the album: we have received a lot from the developed world, but remember that we brought a lot, too."
For the recording, N'Dour returned to the band he helped form a quarter of a century ago, the Super Etoile, and old friends Habib Faye (bass), Babacar "Mbaye Dieye" Faye (percussion) and Papa Oumar Ngom (guitar), who have been part of Youssou's circle for more than 20 years. "They are not from the north, but they are Senegalese, they understand exactly what is happening in the north, the south, and the centre."
There are a few additions to the team, too. Neneh Cherry, duets with Youssou on "Wake Up (It's Africa Calling)". (Cherry and N'Dour previously recorded the hit song '7 Seconds' in 1994). "We're not trying to have another '7 Seconds' as this is a much more African-sounding song, featuring our instruments, such as kora," N'Dour says.
The Malian musician Bassekou Kouyate, previously best know as a member of Ali Farka Toure's band, adds ngoni, a four-stringed ancestor of the banjo, to "Sama Gammu". The same song also features the voice of Ousmane Kangue a singer from the north, described by Youssou N'Dour as simply "great, like Baaba Maal". Additionally Balla Sidibe and Rudy Gomis of Orchestra Baobab, who were in N'Dour's studio recording their album on the day he recorded this "Xel", sing on that track.
<
Author:
World Music Central News Department
World music news from the editors at World Music Central