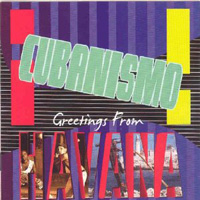 ¡Cubanismo!
Greetings from Havana (AIM Records AIM 1091 CD, 2007)
Being one of the best Cuban bands on the planet does not, sadly, mean exemption from the sort of political bullshit that prevents touring the United States and may delay the recording of new releases. It's been a half dozen years since ¡Cubanismo! melded the sounds of Cuba and New Orleans on their Mardi Gras Mambo album, and if the title of their new Greetings from Havana doesn't clue you in that they've returned to a purer Afro-Cuban sound, one spin of the disc will set your mind and body straight. (Do take the time, though, to read the liner notes' account of their unlikely but fruitful hookup with an Australian record label which led to this CD getting made.)
The band remains under the leadership of master trumpeter/composer Jesus Alemany, who keeps the horn section blazing as a battery of Latin percussion is sweetened by a mesh of graceful piano, bass, tres and a frontline trio of vocalists.
Musically, there's several variations on Cuban son to be heard, plus a recalling of early Afro-Cuban jazz fusion on "Descarga Caliente," a "Petit Mambo" that's not small on swing and a few love songs that don't let their subject matter stop them from packing the same dance floor heat as everything else.
This is a triumphant return by a band that hasn't lost a step. In fact, they sound better than ever. Nice to have 'em back.
Author:
Tom Orr
Tom Orr is a California-based writer whose talent and mental stability are of an equally questionable nature. His hobbies include ignoring trends, striking dramatic poses in front of his ever-tolerant wife and watching helplessly as his kids surpass him in all desirable traits.