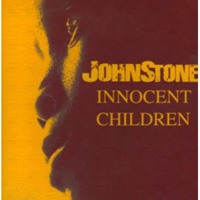 JohnStone
Innocent Children (JohnStone Reggae LLC JSIC, 2007)
I raved about the debut album by Washington DC-based reggae band JohnStone, and for good reason. Eyes Open was a great release with seemingly limitless staying power: I found myself listening to it repeatedly while other reggae CDs on my shelf gathered dust.
The group's follow-up, Innocent Children, likewise proves a keeper worth revisiting. Produced with assistance by R. Jalani Horton from noted Virgin Islands reggae outfit Bambu Station, Innocent Children finds JohnStone in a noticeably more serious, almost brooding vibe compared with Eyes Open. Saxophonist Benjamin Crandall, upgraded from guest player to full-time member, colors many of the tracks with moody, jazz-laced solos, and the songs themselves are as pensive as they are grooving.
The title track addresses the evils of children being conscripted into military service, while "Trod your Own," "Doubt" and "Wanted" sing of personal struggles and the strength to carry on through them. Even the relative rays of sunshine ("Keep Climbing," "Happy Day") are textured with cautionary tones that get to the heart of you even as your head bobs to the beat.
But lest I mislead anyone, let me state unequivocally that this album is not a downer by any means. JohnStone proved with their last disc and this one that their music is as consciously edifying as reggae gets. Their instrumental chops are full of nimble expertise, the shared lead vocals of guitarist Andre White and drummer Alfred Adams brim with no-nonsense conviction and when all's said and done, you'll forget your troubles and dance. Just be sure to cool down and take the advice of the concluding "Be Thankful," a Ben Harper-ish acoustic piece that lays it all on the table.
The music and message are one on this disc, and the power they fuel in each other is considerable.
Author:
Tom Orr
Tom Orr is a California-based writer whose talent and mental stability are of an equally questionable nature. His hobbies include ignoring trends, striking dramatic poses in front of his ever-tolerant wife and watching helplessly as his kids surpass him in all desirable traits.