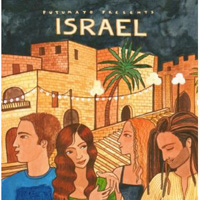 Various Artists
Israel Putumayo PUT 268-2, 2007)
Viewed as a constantly troubled, dangerous country, an idyllic land as depicted in recent TV commercials promoting tourism or something in between, Israel is a place most people have some knowledge of. Still, the compilers of this collection, I reasoned, could hardly have had their work cut out for them.
Israel's diversity is reflected in its people and, by natural extension, in its music. So even before I listened to the sounds on Putumayo's simply-titled Israel, I figured they'd have to touch upon many factors: traditional, modern, Jewish, Christian, Muslim, indigenous, international, etc. Plus, the songs would have to sound like they came from a country filled with internal and external strife but struggling to overcome such, right? Wrong.
I usually fall flat on my face when I try to be analytical, and as it turns out, the music on this CD is wonderful without any preconceived ideas. Apart from the multinational Idan Raichel Project, all the artists here were new to me and each track proved to be a revelatory joy. From the reggae-peppered jolt of Moshav Band and Sheva to the Africanesque roll of Mosh Ben Ari, the free-floating trance of Amal Murkus, the nearly Brazilian bounce of Hadas Dagul and the cabaret lilt of Tea Packs, Israel surprises and delights at every turn.
The old/new feel I anticipated is there to an extent: most of these songs sound contemporary while seeming to reach back to something quite ancient for their emotional core. But there I go analyzing again. Pay no mind.
The back cover touts this CD as "exciting and diverse" and I must agree. Obtain it at your leisure, clear your mind of everything you think you may know of the headline-grabbing country it's named for, and just bask.
Buy Israel.
Author:
Tom Orr
Tom Orr is a California-based writer whose talent and mental stability are of an equally questionable nature. His hobbies include ignoring trends, striking dramatic poses in front of his ever-tolerant wife and watching helplessly as his kids surpass him in all desirable traits.