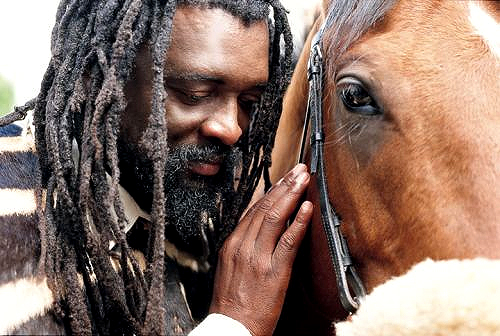 South African media, reggae fans, international music media and news wire services kept reporting today about the senseless murder of reggae star Luck Dube. His record label, Gallo Music, mourned his death today:  "The staff of Gallo Record Company are devastated by the news of the tragic passing of reggae legend Lucky Dube. Lucky was slain in an attempted hijacking in Rosettenville in Johannesburg last night, at approximately 8pm, whilst dropping off his children at a family members house.
Although Lucky attempted to escape the scene, he had been fatally wounded from the hijacker's attempt to steal his motor vehicle, and he died almost instantly. Senseless and random, the death of Lucky Dube leaves a great void in the music industry, as 25 years of music suddenly ends in tragedy."
New York's top reggae and world music club, S.O.B.'s, mourned the loss of the legendary South African musician: "The perpetrators have taken the life of one of the world's most beloved musicians, but they have failed in killing his spirit. S.O.B.'s is planning a commemorative concert in celebration of the life of Lucky Dube and to mourn this great loss."
Several Lucky Dube fans commented in list serves and blogs on the prophetic lyrics that Dube wrote for the song "Crime And Corruption," which was included in the CD The Way It Is and is also one the selections that appears in the compilation The Rough Guide to Lucky Dube. "Crime And Corruption" includes the following passage:
…Do you ever worry
About your car being taken away from you
In broad daylight
Down highway 54
Do you ever worry
About your wife becoming
The woman in black
Do you ever worry
About leaving home and
Coming back in a coffin
With a bullet through your head…
Ivor J. Haarburger, CEO of Gallo Music Group is deeply saddened by the loss. "Lucky was not just an extraordinary artist, he was a personal friend. We go back over twenty years and had both a business and personal relationship. It's so sad to lose such a great friend and so tragically, why?"
Should you wish to send a message of condolence to Lucky's family, email lucky@gallo.co.za or fax on 27 (0) 11 340 9471.
Author:
World Music Central News Department
World music news from the editors at World Music Central