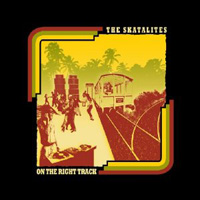 The Skatalites – On the Right Track (Aim AIM1092 CD, 2007)
The Skatalites – Rolling Steady: The 1983 Music Mountain Sessions (Motion Records FAST CD019, 2007)
The Pietasters – All Day (Indication Records IR001, 2007)
More than four decades on, Jamaica's Skatalites remain the masters of the ska music that begat rocksteady and reggae and continues to bounce back in popularity every few years. With a smattering of original members and plenty of new blood, 2007's Skatalites still drop some legs in scorching style. Their first recording of new material in many years, On the Right Track finds them pumping like the mighty Jamaican music machine they've always been.
Given the ever-increasing global awareness of ska, it's only mildly surprising that this mainly instrumental disc was recorded in a place as far flung as Australia. The locale accounts for titles like "Outback Ska" and "Uluru Rock," two of a baker's dozen filled with the irresistible swing of that classic Skatalites groove which occasionally makes way for some slower reggae tempos and a few of Doreen Shaffer's perennially sweet lover's rock vocals. Great as it's been to have the Skatalites revisiting their past glory with consistent touring in recent years, this new stuff really ices the cake. Wonderful!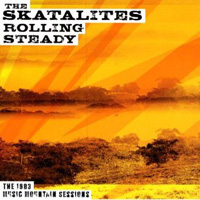 The other big news on the Skatalites front is the release of Rolling Steady: The 1983 Music Mountain Sessions. As the story goes, these tracks were laid down by the original reunited Skatalites as they were preparing to play at Jamaica's Reggae Sunsplash back in 1983. Strife within the band prompted pianist Jackie Mittoo to take the master tapes and run, but now the sessions have been found and restored with electrifying results. Despite the sound being a little rough, the tunes are great.
There's a loose, jazzy, relaxed feel throughout, as though improvisation had a hand in things. The one vocal cut "Big Trombone" (sung by Lord Tanamo) hearkens back to the band's early period with distinct mento phrasing and lyrical references to legendary trombonist Don Drummond. Similarly, selections like "Idler's Rest" and "Absent Without Leave" recall glory days by refining ska's galloping arrangements to make way for playing that shows ska to be indeed rooted as much in jazz and r+b as in Caribbean rhythms.
Most of the musicians on this disc (such as bassist Lloyd Brevett) are now no longer Skatalites or (as in the case of Mittoo and saxophonists Roland Alphonso and Tommy McCook) sadly deceased. As such, Rolling Steady is crucial to the band's legacy. It's unlike anything else the Skatalites ever recorded yet instantly familiar, filling in a key piece of their history with spirited, pulsating music that's marvelous despite 24 years in the dark.
Among countless bands influenced by the original ska sound are the Pietasters out of Washington D.C. They take it further (and back to the roots on a whole other level) by giving their newest album All Day a marked soul feel as well, suitable for an outfit that once spent an evening backing James Brown. They're not big on instrumentals, either.
Lead vocalist Stephen Jackson lays into the songs like equal parts soul shouter and bar belter as the players let loose with muscular rhythms, swelling horns and a might that'll make you move. At times they veer close to uninterestingly standard rock and roll but easily trump any missteps with a lively mixture of Jamaican sway, Stax/Motown soul and musical know how.
Buy On the Right Track and All Day.
For Rolling Steady: The 1983 Music Mountain Sessions, go to Motion Records.
Author:
Tom Orr
Tom Orr is a California-based writer whose talent and mental stability are of an equally questionable nature. His hobbies include ignoring trends, striking dramatic poses in front of his ever-tolerant wife and watching helplessly as his kids surpass him in all desirable traits.